Possible Outcomes of a Personal Injury Lawsuit in Atlantic County, NJ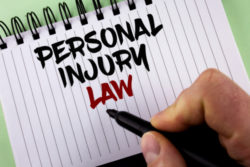 When someone suffers an injury due to the negligent actions of another, it more often than not leads to a personal injury lawsuit. Injuries can be caused by a variety of situations, including car accidents, workplace accidents, slip and fall accidents, acts of violence, premises liability and many other incidents. When a personal injury lawsuit is filed it means that the injured party is asking for compensation for the damages incurred in the accident, including lost wages, medical expenses, pain and suffering, loss of consortium and others. Today, we will take a look at the possible outcomes of a personal injury lawsuit.
Case is Settled Prior to Court in Ocean County, NJ
A large portion of personal injury cases never reach court, which means they are settled prior to a trial starting. When a settlement is reached it means that the two parties involved came to an agreement, or a contract, as to what amount of money will be paid by the at-fault party to the plaintiff. Once a settlement is reached it typically means that the plaintiff will drop the lawsuit. The majority of settlements help pay for the damages mentioned earlier as well as repairs to damaged property.
Defendant Wins in New Jersey Court
It's quite possible that if a personal injury case reaches the trial phase that the defendant could win in court. Should the defendant wind up winning the case, the injured plaintiff will not be issued any compensation for their injuries. It's also possible that the plaintiff might have to pay for the taxable costs the defendant expended to defend themselves. These fees include court filing fees, expert witness fees, service of process fees and attorney fees.
Plaintiff Wins in NJ Court
When the plaintiff is successful at trial, the fact-finder, either a judge or jury, make a decision as to the appropriate amount of damages in a case. The concept behind the amount of damages is based on covering concerns like: medical expenses, lost wages, emotional distress, pain and suffering and damage to property. There could be other effects of the plaintiff winning in court aside from just compensation. In some kinds of cases, there can also be additional non-monetary losses to the defendant, like a doctor losing their license in a medical malpractice context.
Verdict Appeals in New Jersey
Sometimes, the case does not end with a verdict. Each side has the right to appeal if they are not satisfied with the final result. In New Jersey, the right to appeal extends for 45 days after the adverse ruling. This could prolong the case as long as it takes the higher court to decide the appeal.
Contact a Scotch Plains Personal Injury Lawyer to Discuss Your Personal Injury Case in New Jersey
Did you or a loved one sustain serious injuries due to personal injury in New Jersey? Don't let the medical bills pile up while you wait for the negligent party, or their insurance company, to do the right thing. Right now, you need an aggressive personal injury attorney on your side and fighting to get you the compensation you need, want, and deserve. The skilled attorneys at Bramnick, Rodriguez, Grabas, Arnold & Mangan, LLC, represent clients injured because of personal injury in Westfield, Newark, East Brunswick, Clifton, Cherry Hill, Elizabeth, and throughout New Jersey. Call (908) 325-5571 or email us to schedule a free consultation about your case. We have an office conveniently located at 1827 E 2nd St, Scotch Plains, NJ 07076, as well as offices in Newark, Clifton, Elizabeth, Westfield, East Brunswick, and Cherry Hill, NJ.
The articles on this blog are for informative purposes only and are no substitute for legal advice or an attorney-client relationship. If you are seeking legal advice, please contact our law firm directly.