Russell M. Woods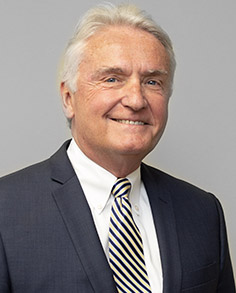 Russell M. Woods is an attorney with Bramnick, Rodriguez, Grabas, Arnold & Mangan, LLC who has been engaged in the resolution of business disputes for more than 35 years. He represents individuals involved in a wide variety of conflicts, including corporate governance and ownership issues, unfair competition, fraudulent conveyances, issues arising out of business sales, and all manner of contract disputes. A significant portion of his practice also involves probate litigation, including will contests, accounting disputes, and claims about the conduct of estate representatives.
Mr. Woods has been at the forefront of the development and implementation of alternatives to litigation, including mediation, arbitration, and proceedings under New Jersey's Alternative Dispute Resolution Act. He is often asked to serve as a neutral mediator or arbitrator and has lectured frequently on ADR topics for the N.J. Institute for Continuing Legal Education and other educational programs.
His experience and reputation in the area of business dispute resolution has led to a number of court appointments, including assignments as receiver, special fiscal agent, and condemnation commissioner. He has served in the past on the N.J. Supreme Court Arbitration Advisory Committee and CDR Advisory Committee. He is currently a panel chair for the District XII Supreme Court Fee Arbitration Committee.
Mr. Woods began his legal career as a law clerk to the Honorable George B. Francis, J.A.D., New Jersey Superior Court, Atlantic County, Appellate Division.
Areas of Practice
Business Litigation

Partnership and Shareholder Disputes
Shareholder Oppression
Unfair Competition
Fraudulent Conveyances
Contract Disputes
Issues arising out of business sales

Probate

Will Contests (Lack of Capacity and/or Undue Influence)
Accounting disputes
Breach of fiduciary duties by estate representatives
Claims by estate creditors

Construction Law

Disputes between property owners and contractors
Construction liens
Consumer fraud violations
Construction defects

Alternative Dispute Resolution

Mediation
Arbitration
Umpire services under the N.J. Alternative Dispute Resolution Act

Real Property

Property Damage
Commercial Tenancies
Foreclosures
Partition
Americans with Disabilities Act (ADA) suits

Non-Litigation

Business Sales and Financing
Real Estate Sales and Financing
Commercial leases

General Litigation
Bar Admissions
New Jersey, 1982
U.S. District Court, District of New Jersey, 1982
Third Circuit, Court of Appeals, 1990
U.S. Supreme Court, 1991
Education
Santa Clara University, Santa Clara, California
Institute for Court Management, Washington D.C.
Seton Hall University, South Orange, New Jersey
Mount Saint Mary's University, Emmitsburg, Maryland
Representative Cases
Elmora Hebrew Center v. Fishman, 125 N.J. 404 (1991)
Conway v. 287 Corporate Center Assoc., 187 N.J. 259 (2006)
Walensky v. Jonathan Royce Int., 264 N.J. Super. 276 (App. Div. 1993)
Martin v. Cooper Electric Supply Co., 940 F.2d. 896 (3d Cir. 1991)
Professional Associations and Memberships
Richard J. Hughes, American Inns of Court, Master/Treasurer, 1989 to present
Presentations
NJICLE, Arbitration and Civil Practice, Panel Speaker
Law Line, Chancery Practice, Effective Use of ADR Modalities
Annual Superior Court Mediation Seminar, Union County College (19 years), Coordinator & Panel Speaker
Publications
Effective Use of Non-Binding Arbitration, 230 New Jersey Lawyer Magazine 150 (October, 2004)
Arbitration Agreements: Easing the Way Through Arbitrable Disputes, 257 New Jersey Lawyer Magazine (August 2004) Co-Author with Ellen Lewis Rice