How Are Car Accident Settlements Determined?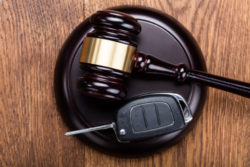 A common question for many who have gotten in an accident – how is my car accident settlement actually determined? There are a number of factors that go into determining a settlement, but one big game changer can be whether or not you have an attorney on your side.
Take for example, that you do not have an attorney with you, and you are looking to see what the insurance company will give to you. If it is just damage to the car, then the insurance company generally pays enough money to cover the repairs of the car.
If there has been an injury as well, this will be negotiated separately. The compensation you receive here will correlate to what the medical bills look like. So basically, with or without a lawyer, these two fields are going to be relatively equal.
However, pain and suffering is treated very differently by the insurance companies, as they seek to pay the minimal amounts possible for these damages. This money is to compensate for any discomfort associated with your injury. Essentially, you must have been cleared from your doctors before this can be determined, but again, the insurance companies will fight against paying out large sums for these damages. .
Hiring a personal injury attorney, on the other hand, may provide you the damages that you deserve. It will make the process go on a little longer, but it will deliver some great financial results if there's a strong case to be made.  Attorneys will challenge insurance companies to compel them to pay just amounts for the pain and suffering of their clients.
If you are looking to maximize the damages you could receive after being injured in an accident, at the hands of someone else's negligence, Bramnick Law Offices are ready to help you and your case. With a team of amazing attorneys at hand, we will fight for the best settlement possible. Contact our offices today to schedule a consultation.
The articles on this blog are for informative purposes only and are no substitute for legal advice or an attorney/client relationship. If you are seeking legal advice, please contact our law firm directly.