What to Bring When You Meet with Your Lawyer in New Jersey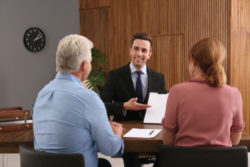 Suffering an injury in a car accident, on the job, or on someone else's property leaves you with a lot of anger, stress, and emotions. You obviously have a lot of questions running through your head that you want answered immediately. After seeking medical care and recovering a bit from the injuries you need to reach out to an experienced personal injury lawyer to have your questions answered and to move forward with a potential lawsuit. As you plan to schedule a meeting with a personal injury lawyer for the first time you need to know what to bring with you. Contact the New Jersey personal injury lawyers at Bramnick, Rodriguez, Grabas, Arnold & Mangan, LLC today for a free consultation.
Prepare Case Information in Ocean County, NJ
The first thing you need to do when meeting with a personal injury lawyer is to prepare the case information. All of the information a personal injury attorney needs to move forward with a lawsuit is listed below:
Name and location of emergency room
Name and location of ambulance service that transported you
Dates of admittance to emergency room and dates spent in hospital
Names and addresses of every doctor who cared for you
Names of all people involved in the accident
Names and address of the witnesses of the accident
All the dates you missed time at work
Name and phone number for every insurance adjuster with whom you spoke
List of all people with whom you have spoken about the accident and your injuries
Prepare Case Documents
The documents you can prepare ahead of time before meeting with a personal injury attorney for the first time are just as important as the information you bring with you to the office. These documents can help the attorney investigate the accident that caused your injuries, review the medical reports, review the police report and speak with witnesses of the accident in an effort to provide you with an honest assessment of the case. The documents you need to bring with you to the initial meeting with the attorney include the following:
Copies of all written statements
Police reports
Accident report
Auto insurance policy, including declarations page
Renter's or homeowner's insurance policies
Disability or medical insurance policies
Veterans insurance policy, hospitalization or major medical policies
Medical bills
Correspondence received from insurance companies
Receipts for repairs made due to accident
Receipts for items you had to buy due to accident
The First Meeting in Newark, NJ
The first meeting with a personal injury attorney will be a sort of get-to-know-you session. The attorney will review all of the information and documents you have provided. The attorney will then ask you a host of questions related to the accident that caused your injuries. It's important for you to answer these questions honestly and with as much information as possible. You will have an opportunity to ask the attorney questions you have about filing a lawsuit against the at-fault party in the case. Your questions should also focus on the attorney, their experience in the field, their experience with these types of cases and anything else you wish to know about them and their work history.
Contact a Scotch Plains Personal Injury Lawyer to Discuss Your Personal Injury Case in New Jersey
Did you or a loved one sustain serious injuries due to personal injury in New Jersey such as a slip and fall, truck accident or motorcycle accident? Don't let the medical bills pile up while you wait for the negligent party, or their insurance company, to do the right thing. Right now, you need an aggressive personal injury attorney on your side, fighting to get you the compensation you need, want, and deserve. The skilled attorneys at Bramnick, Rodriguez, Grabas, Arnold & Mangan, LLC, represent clients injured because of personal injury in Westfield, Newark, East Brunswick, Clifton, Cherry Hill, Elizabeth, and throughout New Jersey. Call (908) 325-5571 or email us to schedule a free consultation about your case. We have an office conveniently located at 1827 E 2nd St, Scotch Plains, NJ 07076, as well as offices in Newark, Clifton, Elizabeth, Westfield, East Brunswick, and Cherry Hill, NJ.
The articles on this blog are for informative purposes only and are no substitute for legal advice or an attorney-client relationship. If you are seeking legal advice, please contact our law firm directly.