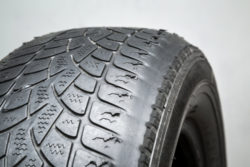 It is never an easy decision to settle for something less because of lower costs. The saying goes, "You get what you pay for" — and that can be true more often than not. But sometimes money plays a huge factor in making a purchase. For a cheaper price you might be able to get something used or refurbished that is just as good as a new product at full price. Then again, buying a used product definitely has its dangers.
Should You Buy New or Used Tires for Your Car?
A common product that consumers tend to ask about buying used are tires for vehicles. Even when it comes to those newer economy-friendly cars, a new set of tires can be quite pricey. This leads you to looking for ways to save money, and plenty of mechanics, junkyards, and tire shops will offer used tires to meet your needs. These tires tend to have plenty of tread left on them and usually do not show signs of wear and tear. This is extremely deceiving, especially when it comes to used tires.
At the end of the day, even if the tires look brand new, you do not know their history. There are many different factors that can diminish the life of a tire. Things like exposure to heat, humidity, sunlight, or salt air can all affect the breakdown rate of a tire. On top of that, the next-biggest factor is how the previous owner used the tires. They might have kept the tires underinflated or overloaded, or they may have driven their vehicle at excessively high speeds — all of which affect the longevity of the tire. Things like hitting curbs, hitting potholes, or driving in harsh weather can create wear and tear on the inside of the tire and remain invisible from the outside.
It is generally recommended to not purchase used tires, especially when the history of the tires is unknown. Still, the necessity for a newer tire than what you already have, coupled with a limited amount of money to spend, can lead to you purchasing used tires for your car. If that's the case, it is essential to try and find tires that are no more than one year old.
Schedule a Free Consultation with a Skilled New Jersey Car Accident Attorney Today
When it comes down to it, the safety of you, the driver, as well as any passengers in your car, is paramount and dependent on the tires the car sits on. If you can avoid used tires, you probably should.
Unfortunately, accidents do happen. Sometimes, those accidents can happen because of used tires. If you or a loved one has been involved in a car accident in Newark, East Brunswick, Cherry Hill, or anywhere else in NJ, you might need an experienced lawyer on your side. The New Jersey personal injury lawyers at Bramnick, Rodriguez, Grabas, Arnold & Mangan, LLC are equipped to help you with your auto accident. Call 877-423-4878 for a free consultation and begin building your case today.
The articles on this blog are for informative purposes only and are no substitute for legal advice or an attorney-client relationship. If you are seeking legal advice, please contact our law firm directly.