Suing for Injuries as a Passenger in a New Jersey Car Accident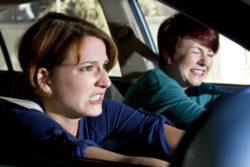 When a car accident occurs, the driver of a vehicle involved in the crash may not be the only person who is injured. Any passenger can also be injured, and those injuries can be just as severe as injuries suffered by a driver.
After suffering a passenger injury, you may wonder what your options are. Often, passengers can seek damages from the insurance companies of the driver whose vehicle they were riding in, another driver involved in the accident, or both. Here's where to start:
1. Gather as much information as you can about the accident.
To file an insurance claim and build the basis for a potential lawsuit, you'll need information about the accident. Start with the contact information for both drivers' insurers. Obtaining a copy of any police report created at the scene can also help you learn more about the crash and gather evidence necessary to build your claim for damages.
2. Start a file about your accident and losses.
Start a file folder or similar storage space for all the information related to your claim. Include items like medical bills, receipts for expenses related to the accident, any documentation that results from missing work due to your injuries, and insurance company paperwork. Much of this information is essential in order to build your case: without it, you won't be able to prove the full extent of your damages.
3. Talk to an experienced New Jersey car accident lawyer.
Many New Jersey car accident attorneys have experience working with those who were injured as passengers in the accident. Choose a lawyer who can help you build your case from a passenger's perspective, and ensure that you meet necessary deadlines so you don't lose your chance to obtain compensation.
Free Initial Consultation — Contact Our Scotch Plains Automobile Accident Attorneys
If you've been injured in a car accident an experienced New Jersey personal injury attorney can help you negotiate with insurance companies, and will build a strong case in order for you to collect the full amount of damages in your case. Contact Bramnick Law at 908.325.5571 or fill out our convenient online contact form to learn more.
The articles on this blog are for informative purposes only and are no substitute for legal advice or an attorney/client relationship. If you are seeking legal advice, please contact our law firm directly.