Proving Fault in a Slip and Fall Accident in New Jersey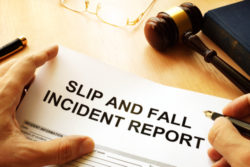 A slip and fall accident is one of the most difficult to prove for various reasons. For starters, you need evidence on your side to show the court why another party is liable for your injuries. You also need to show that you were not negligent in the accident that led to your injuries. In order to prove fault in a New Jersey slip and fall accident you should have evidence, medical records, a police report and photos of the scene where the incident occurred. If you have been injured in a slip and fall, you should contact the experienced personal injury litigators at Bramnick, Rodriguez, Grabas, Arnold & Mangan, LLC, today for a free consultation. Here are some important tips for proving fault in a slip and fall accident.
Provide Evidence That Shows Negligence in Camden County, NJ
One of the most important things you need to do when trying to prove fault in a slip and fall accident is provide evidence that shows negligence was present at the time of the incident. An excellent piece of evidence to show negligence is often the records, or lack thereof, of the place where you fell. In many common areas for slip and falls, like parking lots or grocery store aisles, the owner of the property will keep records for the last times areas were inspected. This can be quite useful for your claim if the inspection was improper or had not occurred after a long period of time.
It's also important to provide a record of financial damages when trying to prove fault in a slip and fall accident. The record should include financial and non-financial damages, including medical reports, lost wages, medical expenses and bills for therapy appointments. If your case is proven, you can recover all of your financial losses.
Witness testimony can help prove fault in your case. Should there be witnesses to the slip and fall accident that caused your injuries you need to ensure that they speak to the police or have a statement given to someone. Witness testimony should be from impartial observers who actually saw the incident occur. Other witnesses can include employees of a business that allowed a hazardous condition to exist and medical professionals who examined and treated the victims of a slip and fall accident.
Pictures have already been mentioned as a required piece of evidence to help prove fault in slip and fall accident cases. Pictures should be taken of the accident scene, the conditions around the immediate scene, any warning signs posted, your injuries and anything else you think will help your case succeed. Pictures of the clothing and footwear the plaintiff had on at the time of the accident could also be of help to show that they did not contribute to the accident.
Is there video of the accident? A large majority of slip and fall accidents occur on commercial or public properties, which means there might be security cameras that captured the incident. A plaintiff's ability to prove fault might be fairly easy if there is clear video showing the moments before, during, and immediately after a slip and fall accident.
Why You Need an Atlantic County Personal Injury Attorney in NJ
Many people don't realize how important it is to fight for compensation after a slip and fall accident with the help of a personal injury attorney. Some of the benefits of associated with having an attorney by your side include the following:
Access to expert witnesses
Access to team of investigators
Experience handling insurance companies
Experience reviewing claims
Contact a Scotch Plains Personal Injury Lawyer to Discuss Your Slip & Fall Case in New Jersey
Did you or a loved one sustain serious injuries due to slip and fall in New Jersey? Don't let the medical bills pile up while you wait for the negligent party, or their insurance company, to do the right thing. Right now, you need an aggressive personal injury attorney on your side, fighting to get you the compensation you need, want, and deserve. The skilled attorneys at Bramnick, Rodriguez, Grabas, Arnold & Mangan, LLC, represent clients injured because of slip and fall injuries in Westfield, Newark, East Brunswick, Clifton, Cherry Hill, Elizabeth, and throughout New Jersey. Call (908) 325-5571 or email us to schedule a free consultation about your case. We have an office conveniently located at 1827 E 2nd St, Scotch Plains, NJ 07076, as well as offices in Newark, Clifton, Elizabeth, Westfield, East Brunswick, and Cherry Hill, NJ.
The articles on this blog are for informative purposes only and are no substitute for legal advice or an attorney-client relationship. If you are seeking legal advice, please contact our law firm directly.