Fault and Duty of Care in an Accident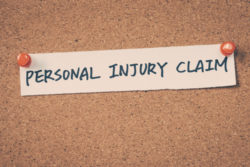 The primary component of any personal injury claim boils down to negligence. The basic assumption of laws regarding personal injury is that someone owed the victim a duty of care and that the person, by breaching that duty and causing an accident that led to severe injuries, is responsible for the various costs and damages associated with the accident.
Winning a Personal Injury Claim in New Jersey
The primary component of your case is whether your personal injury lawyer can prove that the person involved in the accident acted recklessly or without reasonable care and that they ultimately contributed to the accident or completely caused the accident to happen. "Reasonable care" is an important definition that should be understood by everyone considering filing an injury claim in NJ.
Reasonable care involves taking steps to avoid causing injury to others. Conduct that could be considered negligent in one circumstance might not be negligent in another. The crucial elements of your negligence case are that you are able to show that another person was careless and that you were careful. Because of this, that responsible person will have to pay for your injury damages in most cases. If the negligent person causes an accident that occurred while working for another person, the employer could also be held legally responsible.
Talk to an Experienced Cherry Hill Personal Injury Attorney About Your Accident Claim
If you were careless, your right to recover compensation may be impacted. In order to determine how this might unfold in your case, you should schedule a consultation directly with a qualified New Jersey personal injury attorney. There are so many different factors involved in identifying your ability to recover compensation, and only an experienced injury lawyer who has been working in this field for years can tell you more about what's involved and about the best way to protect your own right to a legal claim.
The experienced NJ personal injury lawyers at Bramnick, Rodriguez, Grabas, Arnold & Mangan, LLC are ready to help you with your injury claim. Call us now at 866-845-5571.
The articles on this blog are for informative purposes only and are no substitute for legal advice or an attorney-client relationship. If you are seeking legal advice, please contact our law firm directly.