How Uber & Lyft Accidents Occur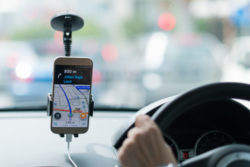 It used to be luck of the draw when hailing a cab for a ride home after a night out. Or if you planned ahead, you could call for a taxi to pick you up and take you to your desired destination. But now, getting a ride almost anywhere is made easy with a smartphone. All you have to do is download Uber or Lyft, open the app, set a destination, and request a ride. The app is set up to pay with a credit card, so users never really have to worry about money on the spot.
Getting an Uber or Lyft usually is as easy as it sounds, and it is definitely convenient for those in need of transportation. However, as is the case with other modes of transportation, accidents do happen in Uber and Lyft vehicles. When it comes down to it, Uber and Lyft drivers are just everyday motorists looking to make some extra cash on the side. It usually is not their primary job, and that alone can make using one of the two services a bit risky.
Distracted Driving Accidents in Uber or Lyft Vehicles on NJ Roads
The risk of being in an accident is always there, just like there is a risk of being involved in an accident while riding in any other vehicle on the road in New Jersey. Uber or Lyft drivers can fall victim to distracted driving, especially with passengers in the car. Something as simple as using their smartphone to accept the next fare could prove a costly mistake and lead to an accident on the road or highway.
With Uber and Lyft drivers working on top of other jobs, driver fatigue is another common cause of Uber and Lyft accidents in New Jersey. Working late hours can mean that your driver is tired and might fall asleep while at the wheel.
Liability for Uber and Lyft Accidents in New Jersey
As these two ride-sharing apps continue to grow, more and more Uber & Lyft accidents are being reported in NJ. So, who is liable if you get injured during a ride? It can be tough to say, especially with Uber and Lyft drivers carrying a different type of insurance than a typical commercial driver would carry. This could mean that you will not get the coverage you might need should a serious injury occur during an Uber or Lyft accident.
Free Consultation with a Knowledgeable Uber Accidents Attorney in East Brunswick, NJ
Uber and Lyft accidents typically end up involving both first party liability and third party liability, which means it would be in your best interests to find a lawyer who is experienced in the field. An experienced, knowledgeable personal injury lawyer can help you get the compensation you deserve, as well as navigate the complicated proceedings that can follow a ride-sharing accident. The attorneys at Bramnick, Rodriguez, Grabas, Arnold & Mangan, LLC have a proven track record of success when it comes to Uber and Lyft accidents. Call 877-423-4878 for a free consultation and begin building your case today.
The articles on this blog are for informative purposes only and are no substitute for legal advice or an attorney-client relationship. If you are seeking legal advice, please contact our law firm directly.