Common Issues Related to Shopping Injuries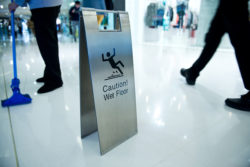 Whether it's for an upcoming holiday or an ordinary weekend, millions of consumers visit shopping centers nationwide to go shopping. Most people assume that when they go out shopping that they will be reasonably safe, but this is unfortunately not always the case. When you are injured while shopping at a business, it's important to promptly investigate who will be liable for your medical bills, lost wages and other damages.
Common Types of Shopping-Related Injuries
It may come as a surprise to some, but there are numerous types of injuries that individuals have sustained while shopping at businesses. In general, the term shopping injuries describes any form of injury someone sustains while shopping at a retail establishment. Many of these types of damages are minor, but there have been cases where shoppers have been severely debilitated by a shopping accident. Overall, research shows that shoppers are more likely to get injured when attempting to shop during the busiest times like Black Friday. The most common types of shopping injuries are:
Overcrowding Injuries
Injuries from falling objects
Damages sustained from a shopping cart
Who is Liable in Shopping-Related Injuries?
In most cases, a victim is entitled to compensation when they are injured on another person's property due to negligence on the part of the property owner. This notion holds true for victims who suffer an accident at a retail location. Premises liability laws make it clear that business owners need to use reasonable care to ensure their property is reasonably safe for consumers. If a victim can prove their injuries resulted from a breach of the property owner's duty to reasonably care for their safety, then courtrooms will most often award them compensation. The injured party will need to distinguish what caused the accident, who was at fault and what types of damages directly resulted from the incident. To successfully obtain compensation, victims must prove:
The store owner knew (or should have known) about a dangerous situation
The store owner did not take reasonable measures to avoid the dangerous situation
The injured person would not have sustained the injury had it not been for the dangerous situation
The shopper's injury is directly related to the dangerous situation
The shopper's injury directly caused actual damages
Contact a Newark Personal Injury Lawyer to Discuss Your Personal Injury Case in New Jersey
Did you or a loved one sustain serious injuries due to shopping in New Jersey? Don't let the medical bills pile up while you wait for the negligent party, or their insurance company, to do the right thing. Right now, you need an aggressive personal injury attorney on your side and fighting to get you the compensation you need, want, and deserve. The skilled attorneys at Bramnick, Rodriguez, Grabas, Arnold & Mangan, LLC represent clients injured because of premises liability in Newark, Westfield, Scotch Plains, East Brunswick, Cherry Hill, Clifton, Elizabeth and throughout New Jersey. Call 877-423-4878 or email us to schedule a free consultation about your case. We have an office conveniently located at 45 Bleeker Street, Newark, NJ  07102 as well as offices in Westfield, Scotch Plains, East Brunswick, Cherry Hill, Clifton, and Elizabeth.
The articles on this blog are for informative purposes only and are no substitute for legal advice or an attorney-client relationship. If you are seeking legal advice, please contact our law firm directly.