How Do I Get Permanent Residency in the United States?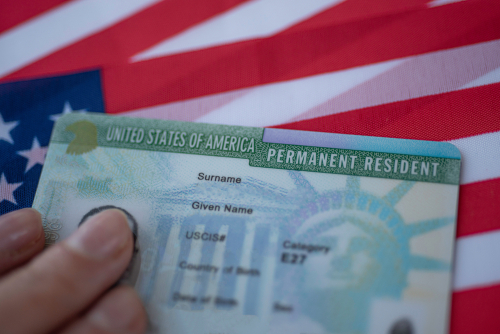 Many people seeking to move to the U.S. look to apply for permanent legal residency, which allows a foreign national to live and work in the U.S. with no restrictions. Acquiring permanent lawful residency can be extremely difficult or less so, depending on a foreign national applicant's individual circumstances.
What is Permanent Residency?
Permanent residency, often popularly called a "green card," is a form of lawful residency that confers most of the same benefits enjoyed by U.S. citizens. A foreign national with permanent residency may live in the U.S. for the rest of his or her life and work without any restrictions or additional requirements. However, permanent residents may not vote, hold public office, or access many kinds of government benefits and services. In addition, someone with permanent residency can still be deported from the U.S. if he or she violates the terms and conditions of permanent residency, such as being convicted of certain types of criminal offenses or by remaining outside of the U.S. for a sufficiently long amount of time. 
Permanent residency is often obtained by foreign nationals wishing to ultimately apply for citizenship in the U.S.; however, a permanent resident will often have to wait for at least five years after obtaining his or her green card before applying for citizenship. 
Read more: 15 Common Defenses To Deportation
Special Designations
Under U.S. immigration laws, there are certain special designations that foreign nationals can qualify for that can help expedite an application for permanent residency. These factors include special professional skills, special education or training, investment in a U.S. based company that hires U.S. citizens, preeminence in academic/research fields, religious workers, former employees of the federal government, refugees, asylum seekers, victims of domestic violence, and juveniles who have been declared dependent by a U.S. court.
Read more: How To Seek Legal Asylum In The U.S.
Relative or Spousal Sponsorship
One of the most common ways for foreign nationals to obtain permanent residency is to be sponsored by a relative or spouse who is a U.S. citizen or already a lawful permanent resident. When seeking sponsorship through a spouse, the applicant and his or her spouse will often need to present substantial evidence and testimony establishing that their marriage is genuine and was not entered into for the sole or primary purpose of securing permanent residency for the applicant. Getting married for the purposes of facilitating approval of an immigration application may be considered a criminal attempt to defraud the government and may result in the applicant's (and his or her spouse if the spouse is a permanent residence) deportation.
Read more: Important Factors That Could Impact Your Immigration Case
The Importance of Legal Representation
Having an experienced immigration attorney to guide you through the application process for permanent residency can greatly improve the chances that your application is approved. A lawyer will know what kind of documentation and information is needed for a successful permanent residency application; a lawyer can also advise you as to whether you will likely have an application approved under your current circumstances or what steps you may need to take to make yourself eligible for permanent residency and improve your chances that your application will be approved by immigration officials.
Read more: How Do I Qualify For Asylum In New Jersey?
Contact a Scotch Plains Immigration Law Attorney for a Consultation in New Jersey Today
If you are applying for a visa, permanent residency, or citizenship, you need to speak with a qualified attorney. The immigration law attorneys at Bramnick, Rodriguez, Grabas, Arnold & Mangan, LLC represent clients throughout New Jersey, including Union, Plainfield, East Orange, and Irvington. We understand how challenging this time can be for you, which is why we will fight hard to protect your interests throughout the legal process. Call us at (908) 325-5571 or fill out our confidential contact form to schedule a consultation. We have an office conveniently located at 1827 E. 2nd St., Scotch Plains, NJ 07076, as well as offices located in Westfield, Newark, East Brunswick, Clifton, Cherry Hill, and Elizabeth.
The articles on this blog are for informative purposes only and are no substitute for legal advice or an attorney-client relationship. If you are seeking legal advice, please contact our law firm directly.