What to Do If You're In a Car Accident While Pregnant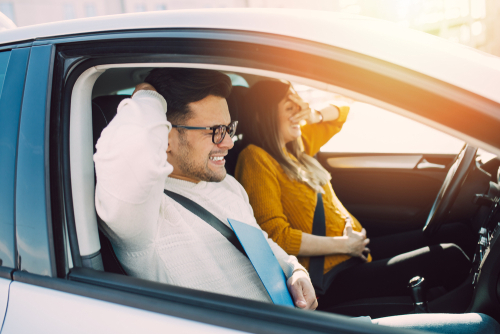 If you've been involved in a car accident while you were pregnant, you are not only worried and stressed about the injuries or harm that you may have suffered, but also for any harm that may have come to your unborn baby. You need to understand your rights and options and what steps to after after you've been in a car crash while pregnant. 
Damages from a Car Accident Can Be Different While Pregnant
In a typical car accident, the at-fault driver would compensate you for losses that you incur due to the crash, including medical expenses, lost wages and earning capacity, and pain and suffering. However, being involved in a car accident while pregnant can change the types and amount of damages you might recover.
For example, being in a car accident while pregnant can increase the emotional distress you experience following the crash, as you may understandably be concerned about potential harm suffered by your child.
The injuries you sustain in a car accident can also increase your compensation for medical expenses and physical pain if your injuries result in complications during your pregnancy. 
Read more: Can I Sue A Drunk Driver?
When Should You File a Car Accident Claim You Incurred While Pregnant?
If you are pregnant when you get in a car accident, it may be wise to delay bringing your claim against the at-fault driver or party until after your child is born and begins to go through the early developmental milestones. Waiting until your child is a few months old (if you can wait that long and still timely file your claim) can give you the opportunity to see whether your child may have suffered any injuries or other adverse effects to their development from the accident. If your child has suffered adverse consequences due to the accident, you and your family may be entitled to recover compensation for medical bills and other specialized services your child may require. 
You should also keep in mind that New Jersey's statute of limitations for car accidents requires you to file a lawsuit to pursue your claim for compensation within two years of the date of the crash, so you cannot wait too long to begin your claim.
What to Do If You Suffered a Car Accident While Pregnant?
If you are involved in a car accident while pregnant, the first thing you should do is to ensure your health and the health of your baby. If paramedics respond to the accident scene, you should immediately let them know that you are pregnant, so that they can monitor your baby's condition. If paramedics are not called to the scene, you should immediately see your OB-GYN or go to the emergency room to get examined by a physician for any signs of complications or distress.
Even after you've been examined, you should continue to follow up with your health care providers. You should make sure to attend all scheduled appointments with your OB-GYN, who can continue to monitor your baby for any signs of complications from the accident. If you are feeling stress and anxiety due to the accident and the effects it may have had on your baby, you should also let your doctors know, so that there is a record to backup your claim if you later seek compensation for emotional and mental distress.
Read more: What Details Are Needed For A Car Insurance Claim?
Contact a Scotch Plains Personal Injury Lawyer to Discuss Your Car Accident Case in New Jersey
Did you or a loved one sustain serious injuries due to a car accident in New Jersey? Don't let the medical bills pile up while you wait for the negligent party or their insurance company to do the right thing. Right now, you need an aggressive personal injury attorney on your side, fighting to get you the compensation you need, want, and deserve. The skilled attorneys at Bramnick, Rodriguez, Grabas, Arnold & Mangan, LLC represent clients injured because of car accidents in Union, Plainfield, East Orange, Irvington, and throughout New Jersey. Call (908) 325-5571 or fill out our online contact form to schedule a free consultation about your case. We have an office conveniently located at 1827 E. 2nd St., Scotch Plains, NJ 07076, as well as offices in Westfield, Newark, East Brunswick, Clifton, Cherry Hill, and Elizabeth.
The articles on this blog are for informative purposes only and are no substitute for legal advice or an attorney-client relationship. If you are seeking legal advice, please contact our law firm directly.