Police Officers, On-the-Job Injuries and Workers' Comp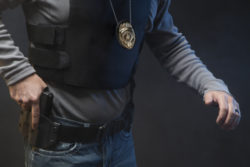 The U.S. Bureau of Labor Statistics reports that police officers bear higher risks of work-related injuries and illnesses than people in other occupations:
Approximately 115 sheriff's patrol officers and police officers suffer a fatal work injury (2003 – 2014) each year.

About 31,000 non-fatal injuries per year caused sheriff's patrol officers and police officers to miss work (2009 – 2014).

When sheriff's patrol officers and police officers sustain job injuries and illnesses, they must deal with expensive medical bills. Some injuries, while non-fatal, cause temporary or permanent disabilities. The injured officer may be unable to return to work.

After a police officer is killed in the performance of his or her work, family members must bear emotional and financial challenges.
New Jersey law offers a range of protections when a security worker or police officer is killed or becomes injured when performing his or her job. An experienced New Jersey workplace injury attorney can help the injured officer or family to best understand their legal options.
Security workers and police officers work each day to make our streets safer. While performing his or her job, the worker faces many possible hazards. According to "The Police Chief," officers face the following risks on the job:
Physical attacks (assaults): About 38 percent of fatalities result from physical attacks on officers and workers.
Car accidents (vehicle collisions): About 37 percent of fatal injuries are sustained in a vehicular crash.

Injuries from overexertion: About 64 percent of non-fatal injuries result from strains or sprains. About 63 percent of these injuries cause the worker to miss work days.

Stress: Police officers must manage daily stress or post-traumatic stress disorders (PTSD) in the aftermath of a violent or traumatic event.

Exposures to chemicals or toxins: Officers are frequently exposed to certain dangerous toxins and chemicals in the line of duty, including those involved in narcotics' manufacture.

Exposures to radiation (traffic radar devices): OSHA reports that some serious health problems are likely to result from constant exposure to excess levels of radiation, such as leukemia or testicular cancer.

Other workplace incidents may result in broken bones, spinal cord damage, traumatic brain injury (TBI), burn injuries, neck-shoulder-back injuries, or death.
While police officers, sheriff's patrol officers, or security workers understand they're exposed to higher on-the-job injury risks, it's extremely difficult to prepare for many workplace injuries or death. New Jersey law ensures that law enforcement officers injured in the line of duty have resources to meet their financial needs, including:
New Jersey Workers' Compensation. If the officer is injured while performing his or her job—whether it's driving or riding in the patrol car or dealing with a violent crime—he or she may file for New Jersey workers' comp benefits. It's also possible to file for workers' comp benefits after exposure to dangerous chemicals or substances that cause illness or the development of repetitive stress injuries.
Third-Party Liability Claims. Although an injured officer can't file a claim against his or her employer if injured on the job, it may be possible to sue a third-party that's at-fault for injuries, disabilities, or death. For instance, if the officer is driving his patrol car and the negligence of a third-party causes a collision, it may be possible to file a personal injury lawsuit against the negligent party. Note that a personal injury claim allows the officer to get compensation that isn't available through workers' comp but, of course, the injured officer or his or her survivors must prove the defendant's negligence caused the injuries, disability, or death.
If you or a loved one has been hurt in the line of duty, Bramnick Law wants to help. We're here to help you make sense of your options after a serious injury or loved one's death in the line of duty. We'll provide a range of services if you sustained injuries in the performance of your job. Contact Bramnick Law at 877-423-4878 to discuss your potential case.
The articles on this blog are for informative purposes only and are no substitute for legal advice or an attorney/client relationship. If you are seeking legal advice, please contact our law firm directly.