GM Pickup Truck Recalls: What to Do?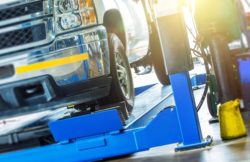 Purchasing a vehicle is an exciting time in anybody's life. That new car or truck smell is one unmatched and the excitement of being handed the keys comes with joy and a definite sense of adventure.
Unfortunately, with all of today's new technology and the way cars and trucks have evolved over the years, there are a lot of things that go wrong even with new vehicles. These defects can be detrimental to the driver by making the car or truck dangerous to operate.
Recently, General Motors (GM) recalled almost 800,000 trucks due to a problem discovered with the power steering. According to the National Highway Traffic Safety Administration (NHTSA), the trucks can suddenly lose power steering, triggered by the truck using a lot of electrical power. If the truck's power levels drop below a certain threshold, power steering can suddenly be disabled.
The loss of power steering can potentially cause drivers to lose control of the vehicle.
The two types of trucks impacted by the recall are certain 2014 Chevrolet Silverado and GMC Sierra pickup trucks. These same models were also affected by a recall last year due to faulty airbag software.
When it comes to the more recent recall for power steering problems, the problem is a fixable one. According to GM, all that is needed to fix the issue is a software update. GM is telling truck owners affected by the recall to bring their vehicles to a dealer where they will receive the software update free of charge.
It is a minor inconvenience to get the problem fixed, but one that can save your life if you are a GM truck owner. Of course, the defective product makes GM and the manufacturer liable for issues or accidents that may have resulted because of the faulty power steering.
Free Consultation with NJ Product Liability Lawyers – No Fee Unless We Get Results
If you have been involved in a car accident or suffered injury because of a faulty product, it is important you seek out a qualified lawyer to fight for the compensation you deserve. In New Jersey, the law offices of Bramnick, Rodriguez, Grabas, Arnold & Mangan, LLC handle personal injuries that stem from car accidents and defective products. Contact us today 877-423-4878 today to begin discussing your legal options.
The articles on this blog are for informative purposes only and are no substitute for legal advice or an attorney-client relationship. If you are seeking legal advice, please contact our law firm directly.