Writing a Demand Letter in Gloucester County, NJ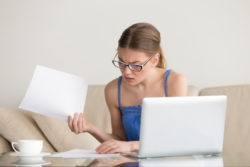 Demand letters are important legal documents that state a plaintiff's position about filing a lawsuit should an issue fail to be resolved outside of court. Basically, a demand letter explains your desire to sue a defendant in a personal injury case if they do not agree to a settlement or have their insurance company settle with you. Thousands of demand letters are sent every year all throughout New Jersey to help resolve personal injury incidents. Today, we will explore some important tips for writing a demand letter so you know what it takes to write one in the event you ever need to do so.
Reasons to Send a Demand Letter in Ocean County, NJ
There are quite a few reasons why someone might send a demand letter to a party being sued for causing an injury, to that party's insurance company, or to your own insurance company. Some of those reasons include:
Create evidence that can support your case
Notify the other party involved in an official manner
Resolving the dispute in a quicker manner
Convincing the court to issue you a higher settlement
Showing the court that the at-fault party was given reasonable time to resolve the issue
Giving the at-fault party a chance to resolve the issue
Features of Strong Demand Letters in Bergen County, New Jersey
The strongest demand letters written include critical features that should never be overlooked. It is very challenging to write a legal document and a demand letter is no different. That's why you should review the following list of features all strong demand letters should have and also seek help from an experienced attorney in writing the letter for your case.
Explain thoroughly why the other party is at-fault in the accident
Provide in-depth detail of disability or long-term injuries suffered
Provide in-depth details of any lost wages
Provide a total amount of medical expenses incurred from the accident, including medical and hospital fees
Explain how the accident changed your daily life
The amount of money you seek in damages
Intent to recover damages using legal remedies if a settlement is not reached
A response deadline for the other party (between seven and 14 days)
Tips for Writing the Letter in NJ
There are some important things you should do each time you write a demand letter and things you should avoid doing. If you keep these in mind when writing a demand letter you should be successful in your attempt to notify the other party in the case.
Make sure the letter is concise and clear. The quicker you get to the point in the letter the easier it will be to understand when read by the other party. All you are required to do is present the facts of the incident you are discussing, not your opinion.
One thing you should never do is admit any type of fault. Even if you were partly at-fault in the incident you should never admit this in the demand letter. This will make the case much more difficult to resolve with a settlement and if it reaches court.
Make the letter look professional by typing it instead of handwriting it. If you have letterhead with your name and address and phone number on it, make sure the demand letter is printed on this letterhead.
Contact a South Plains Personal Injury Lawyer to Discuss Your Personal Injury Case in New Jersey
Did you or a loved one sustain serious injuries due to a personal injury in New Jersey? Don't let the medical bills pile up while you wait for the negligent party, or their insurance company, to do the right thing. Right now, you need an aggressive personal injury attorney on your side, fighting to get you the compensation you need, want, and deserve. The skilled attorneys at Bramnick, Rodriguez, Grabas, Arnold & Mangan, LLC, represent clients injured because of personal injury in Westfield, Newark, East Brunswick, Clifton, Cherry Hill, Elizabeth, and throughout New Jersey. Call (908) 325-5571 or email us to schedule a free consultation about your case. We have an office conveniently located at 1827 E 2nd St, Scotch Plains, NJ 07076, as well as offices in Newark, Clifton, Elizabeth, Westfield, East Brunswick, and Cherry Hill, NJ.
The articles on this blog are for informative purposes only and are no substitute for legal advice or an attorney-client relationship. If you are seeking legal advice, please contact our law firm directly.