Can Delivery Drivers File for Workers' Compensation?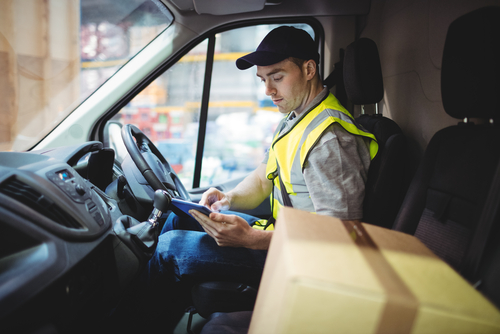 Delivery drivers have been working overtime in light of the current Coronavirus pandemic. With New Jersey residents being asked to isolate and practice social distancing, more and more people have turned to delivery services to buy groceries and other necessities. While the industry has seemingly boomed as a result of this, the more drivers there are out on the road, the higher the risk is for getting into an accident. Likewise, if a delivery driver is injured as a result of lifting heavy objects or slipping and falling on someone's property, it could put them out of work for weeks or months. Below, we take a look at the recovery options delivery drivers have if they are injured on the job. 
How Can Delivery Drivers Get Hurt?
Delivery drivers are exposed to a number or risks while on the clock. Whether it be driving and delivering in poor weather conditions, using heavy equipment or encountering hazards at a warehouse, these drivers often have to try and mitigate their exposure to certain risks. However, that is not always doable. As such, delivery drivers can be hurt in the following by:
Motor vehicle accidents
Lifting heavy objects
Poor weather conditions
Hazardous road conditions
Negligent loading of truck
And more
Am I Eligible for Workers' Compensation?
In New Jersey, any injured worker can file a workers' compensation claim regardless of who may be at fault for the accident. This is because workers' compensation in New Jersey is a no-fault system. 
How Do I File a Workers' Compensation Claim?
After sustaining an injury, delivery drivers should first seek medical treatment. Since New Jersey employers are required to carry workers' compensation and therefore cover the medical expenses tied to the employee's injuries, they will most likely dictate which medical facility and/or doctor you can seek treatment from. If you do not get a pre-authorization from your employer prior to seeking medical treatment, your medical costs will not be covered. This is waived, however, in cases of medical emergencies where you don't need to get your employer's authorization before seeking treatment. 
After seeking medical care, it's important to notify your supervisor of what happened. Workers have 90 days to alert their employer of the workplace accident. This notice doesn't have to be in writing, but it's always recommended that it is. This report should include all details surrounding the accident including how it happened, the date and time it took place and where. It's recommended that you keep a copy of this notice for your records. 
Once you notify your employer of what happened, they will file a First Report of Injury form with the New Jersey Division of Workers' Compensation within 21 days. Don't forget to follow up with your employer about this. If your employer isn't providing you with an update or missed the deadline to file, it's imperative to contact an attorney who can help. 
Your responsibilities don't stop simply because you were injured. It's important that your employer files this report in a timely fashion to ensure that you can start receiving benefits as soon as possible. If your claim was denied, the attorneys at Bramnick, Rodriguez, Grabas, Arnold & Mangan, LLC will help you file an appeal. 
Related Blog: What You Should Know About The Independent Medical Examination For Workers' Comp
Contact A New Jersey Workers' Compensation Lawyer To Discuss Your Work Injures Today!
A workplace injury can be devastating, particularly if it prevents you from returning to work for an extended period of time. Although New Jersey state workers' compensation laws are supposed to provide you with reimbursement for medical expenses and replacement pay for missed time at work, it is not always easy to get the workers' comp benefits you deserve. That is why you should speak with a knowledgeable workers' compensation lawyer about your situation and get guidance throughout the claims process. The skilled attorneys at Bramnick, Rodriguez, Grabas, Arnold & Mangan, LLC represent clients injured on the job in Westfield, Cherry Hill, New Brunswick and all throughout New Jersey. Call 877-423-4878 or fill out our online contact form to schedule a free consultation about your case. We have several offices, conveniently located in Scotch Plains, Westfield, Morristown, East Brunswick, Clifton, Cherry Hill, and Newark, New Jersey.
The articles on this blog are for informative purposes only and are no substitute for legal advice or an attorney-client relationship. If you are seeking legal advice, please contact our law firm directly.