What You Should Know About the Independent Medical Examination for Workers' Comp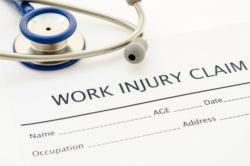 Has your employer informed you that it is time for your independent medical examination? How you approach this meeting is important and could have a significant impact on your ability to recover the compensation you need to get better after a workplace injury.
An independent medical examination involves an evaluation by a medical provider who will give an opinion on your medical condition and the level of disability you currently have in your course of treatment. After the exam has concluded, the doctor will issue a report answering critical questions about your situation.
Who Does the Independent Medical Examiner in Your NJ Workers' Comp Case Actually Work for?
In many cases, the independent medical examiner (IME) is hired by the insurance company or the employer when they disagree with the disability rating or your course of treatment. However, your state workers' compensation agency may also order an IME. Before attending the exam, you should get familiar with your medical history, review how the accident occurred, identify the course of treatment already requested, review any current symptoms, and plan to arrive early.
It is also a good idea to take notes during and after the appointment has concluded, so that you can remember what was said. It can be a blur to go through the process of a workers' compensation claim on your own. When you keep track of all relevant details and record what happened during your conversation with the doctor, you will have a better chance of presenting this information to your own attorney or doctor.
Talk to a Knowledgeable Workers' Compensation Lawyer in Newark, New Jersey
Make sure that you are honest about your limitations and do not exaggerate your symptoms when attending the meeting with the doctor. If there are any previous injuries involved, you need to distinguish them clearly for the doctor. After the exam is complete, schedule a phone call with your workers' compensation attorney to discuss how it went.
Contact the experienced NJ workers' comp lawyers at Bramnick, Rodriguez, Grabas, Arnold & Mangan, LLC to get answers to your questions. Call us anytime at 866-845-5571.
The articles on this blog are for informative purposes only and are no substitute for legal advice or an attorney-client relationship. If you are seeking legal advice, please contact our law firm directly.