Who Do I Have to Notify After a Personal Injury Accident?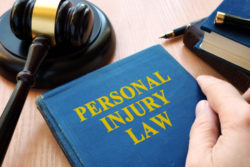 You may need to notify the person who has caused the injuries in a recent accident. You simply need to think about who could have been at fault in order to determine who you need to tell. You may not have to give any insurance companies or the individuals involved detailed facts about the accident or the injuries you have suffered. What you probably should do is retain your own experienced personal injury attorney to protect your best interests.
Steps to Take When Deciding Whether to File a Personal Injury Claim in New Jersey
Letting someone know that an accident occurred at a particular time and place and that you sustained injuries is usually necessary when telling them of your intent to file an injury claim. Before you can notify the individuals who may be responsible, however, you must decide who could have been potentially liable.
This typically depends on the kind of accident that occurred. In a car accident, for example, you will need to notify the driver of each vehicle involved. Moreover, if the car was en route for company business, you will need to notify the employer of that driver. Furthermore, you will need to notify your own insurance company. Different sorts of people may be involved in your notification process, depending on the injuries you have sustained.
Schedule a Free Consultation with an Experienced Cherry Hill Personal Injury Attorney
Writing notification letters can be accomplished by scheduling a consultation directly with a personal injury lawyer. It can be overwhelming to face all of the changes in your life after a serious personal injury accident, but a lawyer is an important component of your decision to protect your interests. Your lawyer can tell you more about common mistakes to avoid and about what you do and don't need to tell people when it comes to your intent to file a personal injury claim. The right attorney can be a significant advocate for you and a solid resource for the duration of your case.
Contact an experienced Westfield personal injury attorney at Bramnick, Rodriguez, Grabas, Arnold & Mangan, LLC today. Call our NJ lawyers at 866-845-5571.
The articles on this blog are for informative purposes only and are no substitute for legal advice or an attorney-client relationship. If you are seeking legal advice, please contact our law firm directly.