Prevent Your Children from Earning a Criminal Record This Mischief Night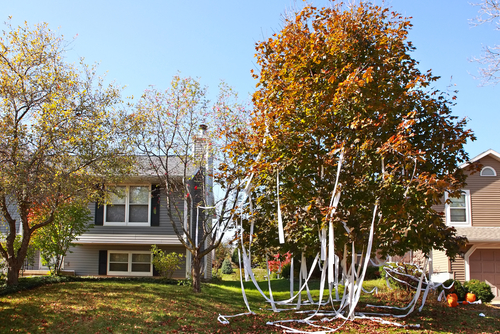 Mischief Night is a quasi-holiday observed by many children and teens across New Jersey on October 30, the night before Halloween. On Mischief Night, young people will often engage in mostly harmless pranks, like ringing doorbells and running away, throwing rolls of toilet paper, and smashing pumpkins. Unfortunately, some young people choose to escalate the scope or destructive nature of their pranks, quickly veering into contact that may constitute a crime, especially when a prank results in property damage or personal injury. 
If you are the parent of a child or teen in New Jersey, you need to understand the rules municipalities have put in place to curb more destructive tendencies on Mischief Night and the potential criminal charges your child might face if pranking escalates.
Curfews
Several municipalities throughout New Jersey have established curfews for minors on Mischief Night, Halloween, and surrounding dates, including:
Mount Laurel: Minors must be accompanied by adults after 9 pm on October 30 and 31
Haddon Township: Children ages 16 and younger are subject to a curfew beginning 10 pm on October 30 and 31
Union Township: Curfew for juveniles from 10 pm to 6 am enforced October 30 through 31
Beachwood: 9 pm curfew on October 30 and 31
Cherry Hill: 7 pm curfew suggested for minors not accompanied by an adult on Halloween
Zero-Tolerance Policies
In addition to curfews, many municipal police departments are also taking a zero-tolerance policy towards any minors found in possession of items commonly used for Mischief Night pranks, including eggs, shaving cream, toilet paper, paintball guns, or flammable materials.
Criminal Offenses Committed by Children on Mischief Night
Intentionally or unintentionally, some examples of crimes that are committed by children and teens pulling pranks on Mischief Night include:
Criminal mischief, which can arise from "pranks" like throwing eggs, sticks, or rocks, damaging private property, damaging public utilities, or damaging or defacing gravemarkers in a cemetery
Disorderly conduct, which involves disturbing the peace or engaging in dangerous and/or violent behavior
Trespassing, or entering a property without permission; entering someone's home or business may also rise to the level of breaking-and-entering
Arson, if a "prank" involves setting a fire
Read more: Can I Go To Jail For Criminal Mischief In NJ?
How a Criminal Defense Attorney Can Help If Your Child Is Arrested
If your child is arrested for committing a criminal offense on Mischief Night, your family may have options that can help your child avoid serious consequences of a juvenile or criminal conviction. Having a criminal defense attorney to help you and your family can be especially critical. An attorney may be able to negotiate for a dismissal of charges, especially if no serious harm was done and if your child has no prior juvenile or criminal arrests. If the state wishes to pursue a prosecution, an attorney may be able to negotiate for a reduction in the severity of the charges to avoid the most serious consequences of an adjudication of delinquency or criminal conviction. If your child does end up with a conviction, later on a criminal defense attorney might be able to help your child pursue expungement of his or her juvenile record.
Read more: When Could A Juvenile Be Charged As An Adult?
Contact an Experienced Scotch Plains Criminal Defense Lawyer About Your Charges in New Jersey
Were you arrested or charged in New Jersey? The consequences of a conviction could be severe, leaving you with a permanent criminal record and possibly even sending you to jail. That is why you need to speak with a qualified criminal defense attorney as soon as possible about your case. The attorneys at Bramnick, Rodriguez, Grabas, Arnold & Mangan, LLC have successfully represented clients charged with juvenile crimes in Old Bridge, Piscataway, New Brunswick, Perth Amboy, and throughout New Jersey. Call (908) 325-5571 or fill out the online contact form to schedule a consultation with a member of our legal team. We have an office conveniently located at 1827 E. 2nd St., Scotch Plains, NJ 07076, as well as offices located in Westfield, Newark, East Brunswick, Clifton, Cherry Hill, and Elizabeth.
The articles on this blog are for informative purposes only and are no substitute for legal advice or an attorney-client relationship. If you are seeking legal advice, please contact our law firm directly.