What To Do If Your Spouse's Green Card Was Denied?
GREEN CARD ATTORNEY IN ELIZABETH, NJ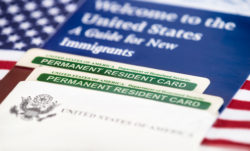 If your spouse's green card request was denied, you need an experienced New Jersey immigration lawyer now to examine the possible chances of eventually winning an approval. If USCIS approves the spouse or fiancé petition (Form 1-130 or Form I-129F) and denies the adjustment of status application (Form I-485), your next steps may be complicated.
You will need to know what went wrong with the first application and take the proper steps to obtain lawful permanent residency with a green card.
Newark Immigration Lawyer Michael Noriega Will Untangle the Web of Misinformation Regarding Green Cards
Immigration laws are complex and many intelligent people make mistakes because they don't understand what's required. That's because U.S. immigration rules are in constant flux. Actions you might have taken several years ago may affect the case—even if you can't remember them. Some of the most common mistakes include:
You didn't hire an immigration lawyer. Unfortunately, the immigration officer asked lots of questions you didn't expect in the interview. You were unprepared, and the interview didn't go as planned.
You didn't hire an experienced New Jersey immigration attorney. Perhaps you forgot to ask the attorney about his or her experience in immigration law before your case began, and you found out too late that he or she was ill-prepared for the complexities of your case.
You were cited or arrested in the past but your case was dismissed. The criminal defense attorney you engaged says you shouldn't worry about the potential consequences of immigration. Don't believe it. You need an experienced immigration law firm because if and when the immigration officer discovers this arrest, you could have a big problem. Your request for a green card (or for your spouse's green card) through marriage may be denied on grounds of inadmissibility. You or your spouse may be scheduled for a deportation or removal hearing.
You have only months to find an immigration attorney. After the judge in Immigration Court tells you to find an immigration attorney, you may find yourself with very limited time to find one. You're worried about how to find an experienced immigration attorney in New Jersey, so you do nothing.
You learn it may be possible to waive the grounds of admissibility. As this case was mentioned above, but attempt to present the facts to USCIS on your own.
You don't live with your spouse but you've gone ahead with the marriage interview. You must understand that this is considered marriage fraud. When the officer conducts separate interviews in which you and the spouse are asked dozens of questions, realize that he or she will compare your answers. If there are considerable differences in your responses, the officer may conclude marriage fraud. In that case, you'll be banned for life from the possibility of receiving immigration benefits.
Realize that if your spouse's green card request was denied, U.S. immigration isn't required to hear your appeal. Immigration benefits are discretionary, and you don't have the legal right to appeal the decision.
Experienced Newark NJ Immigration Lawyer Michael Noriega Helps Immigrants Obtain Their Green Cards
However, there may be another opportunity to present your case. After consideration of your specific situation, an experienced immigration attorney can make all the difference. Contact Bramnick Law at 877-423-4878 or fill out our online contact form. We have offices in Scotch Plains, Newark, Clifton, Westfield, and East Brunswick, NJ.
The articles on this blog are for informative purposes only and are no substitute for legal advice or an attorney/client relationship. If you are seeking legal advice, please contact our law firm directly.