Refusing a Breathalyzer Test
Skilled Attorneys Can Defend Clients Charged with Refusing to Take a Breathalyzer Test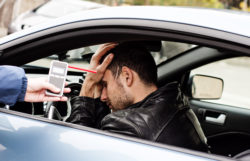 "Who in their right mind would refuse a breathalyzer test?" you may very well be asking yourself. Many people feel forced into taking a breathalyzer test, and even if they felt they were under the legal BAC limit, they often times were right there or slightly over. A police officer may arrest you for a DUI based on the observations he/she has made on the roadside and based on your interaction.
DWI Attorneys Provide Drunk Driving Defense in Union County, New Jersey and Help Clients Keep Their Lives on Track
Now, suppose you did not take the breathalyzer test or any other sobriety test for that matter.  You will be subject to an automatic and per se license suspension of 7 months for failing to comply with the breathalyzer. So why would you choose to refuse a test in this case? There is no good reason to refuse the breathalyzer, as you will be creating a per se presumption against yourself.  Not only will you automatically be convicted of a DUI, that result will count against you in the future if you are again stopped for a DUI.
However, it is important to know that refusal charges can be beaten. The Jon Bramnick legal team will fight hard on your behalf. We have many lawyers who are former prosecutors and who know how to best negotiate with the State in a Breath Test Refusal case. The DWI defense lawyers at Bramnick, Rodriguez, Grabas, Arnold & Mangan, LLC can defend you against these charges.
Contact the Experienced DUI Attorneys at Bramnick Law Today
If you have been convicted of a DUI, regardless of whether or not you have refused the breathalyzer test, contact Bramnick Law today. At our offices, we have attorneys who are ready to fight for your case. Contact us today to schedule a consultation.
The articles on this blog are for informative purposes only and are no substitute for legal advice or an attorney/client relationship. If you are seeking legal advice, please contact our law firm directly.