How to Deal With Aggressive Drivers During the Holiday Season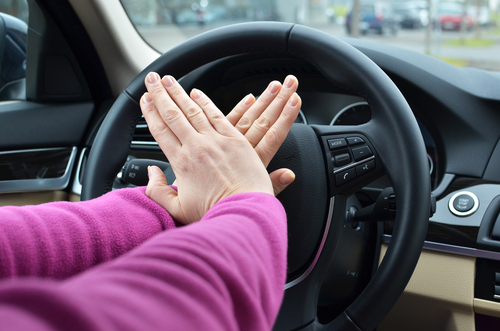 While the holidays are considered the season of joy, on the road many drivers don't seem to share in those holiday feelings. It can often seem like drivers become more aggressive and reckless on the road during the holidays, engaging in behaviors like speeding, tailgating, brake checking, or swerving in and out of traffic. There are important tips you should keep in mind for this upcoming holiday season to help you deal with the risk posed by aggressive driving.
Why Are There More Aggressive Drivers During the Holiday Season?
A study conducted by a popular automotive website found that drivers in many cities engaged in 20 percent higher rates of aggressive driving during the holidays, compared to other times of the year. The most frequent aggressive driving behaviors noted by the study included hard braking, speeding, and rapid or aggressive acceleration. Drivers can tend to become more aggressive behind the wheel for several reasons, including becoming stressed out by long-distance holiday travel (getting lost, falling behind schedule, etc.), as well as becoming generally stressed out by heavier holiday traffic as people run more errands for holiday gift shopping and preparing for holiday parties. 
Read more: Questions You Might Be Asked by the Insurance Company After a Car Accident
Tips You Can Follow to Avoid Becoming an Aggressive Driver
Although you cannot control how others on the road behave, you can reduce the risks posed by aggressive driving by trying not to become an aggressive driver yourself. Some important tips to keep in mind for staying calm behind the wheel during the holidays include:
Give yourself extra time to reach your destination, especially when traveling out of town for holiday plans. The holidays usually mean slower road travel due to heavy traffic and bad weather. If you leave yourself more time to get to where you are going, you won't feel as stressed about being late and therefore will be less inclined to engage in aggressive driving to try to make up for delays.
Avoid speeding, tailgating, brake checking, or changing lanes without signaling, which can trigger other drivers to engage in aggressive driving behaviors in retaliation.
If you are already feeling stressed about other aspects of your life, consider putting off getting behind the wheel until you have had an opportunity to de-stress.
Read more: What to Expect if You Don't Report Your NJ Car Accident
How to Safely Deal with Other Aggressive Drivers
Of course, you can also take steps to protect yourself from other aggressive drivers that you may encounter on the road this holiday season. You should always remain alert while behind the wheel for behaviors in other drivers that may indicate they are an aggressive driver, such as:
Excessive speeding and aggressive acceleration
Unsafe or erratic lane changes
Running red lights or failing to obey traffic signs and controls
Tailgating
Undertaking (passing on the right)
If you are confronted by an aggressive driver on the road, the safest thing you can do is to safely move out of their way. For example, if you have an aggressive driver tailgating you, do not attempt to speed up or brake check. Instead, move over to the right or pull off the road when safe to do so. Also do not attempt to pass a driver ahead of you that is displaying aggressive driving behaviors. Finally, if you believe that a driver is engaging in reckless driving or may be under the influence, pull off the road and contact law enforcement to let them handle the driver.
Contact a Scotch Plains Personal Injury Lawyer to Discuss Your Car Accident Case in New Jersey
Did you or a loved one sustain serious injuries due to a car accident in New Jersey? Don't let the medical bills pile up while you wait for the negligent party or their insurance company to do the right thing. Right now, you need an aggressive personal injury attorney on your side, fighting to get you the compensation you need, want, and deserve. The skilled attorneys at Bramnick, Rodriguez, Grabas, Arnold & Mangan, LLC represent clients injured because of car accidents in Edison, Woodbridge, Old Bridge, Piscataway, and throughout New Jersey. Call (908) 325-5571 or fill out our online contact form to schedule a free consultation about your case. We have an office conveniently located at 1827 E. 2nd St., Scotch Plains, NJ 07076, as well as offices in Westfield, Newark, East Brunswick, Clifton, Cherry Hill, and Elizabeth.
The articles on this blog are for informative purposes only and are no substitute for legal advice or an attorney-client relationship. If you are seeking legal advice, please contact our law firm directly.