Defenses to a Personal Injury Claim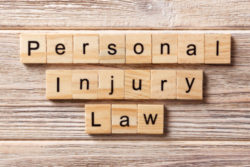 When you file a personal injury claim against someone who is responsible for injuries you sustained in an accident, it may be shocking to realize that the other person will hire an attorney of their own to present a compelling defense. There are defenses available in particular personal injury claims, but ultimately these claims are evaluated by the courts to determine whether the defendant breached a duty of care owed to you and whether you sustained injuries as a result.
Winning a New Jersey Personal Injury Case
Your ability to present a compelling case may depend on your selection of an experienced personal injury attorney who understands the NJ legal system. A qualified attorney may be able to anticipate arguments from the other side. Defenses could be based on the plaintiff's role in the accident, such as arguing that you are truly responsible for the accident that occurred.
Another common defense in New Jersey personal injury cases has to do with assumption of risk. In some cases, a defendant who is faced with a lawsuit may argue that the injured person did indeed suffer damages and injuries as a result of the accident but that the victim truly assumed the risk by willfully participating in an activity they knew was dangerous. One crucial aspect of the "assumption of risk" defense used in personal injury cases, however, is that the harm must relate to the risk inherent in the activity.
Contact an Experienced Newark Personal Injury Attorney to Get the Compensation You Deserve
If you believe that the defenses raised by the other side in your NJ personal injury case may cast doubt about the severity of your injuries or the role you played in the accident, it is imperative that you identify a personal injury attorney who has a track record of experience in this field and who will work hard to protect your best interests from the moment you hire him or her. Knowing the defenses you are likely to face in court can increase your chances of success.
The Cherry Hill personal injury lawyers at Bramnick, Rodriguez, Grabas, Arnold & Mangan, LLC can help you today. Call us now at 866-845-5571 or fill out the online contact form.
The articles on this blog are for informative purposes only and are no substitute for legal advice or an attorney-client relationship. If you are seeking legal advice, please contact our law firm directly.