How NJ Workers Can Protect Themselves from Workplace Accidents This Winter Season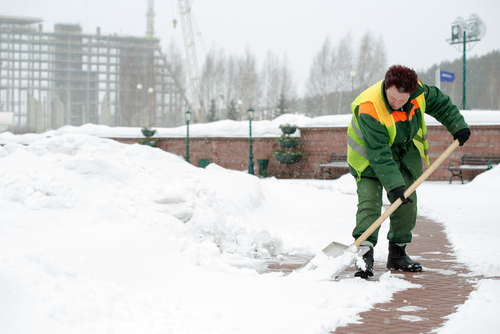 During the winter months in New Jersey, we are exposed to severe snow and ice storms and freezing temperatures for weeks on end. With this harsh weather comes more dangerous and hazardous conditions, especially for outdoor work environments. The increased hazards of wintertime conditions also leads to an increased risk of workplace accidents. While some work accidents only result in minor injuries, many winter work accidents can leave New Jersey workers with debilitating or even life-altering or fatal injuries. 
If you regularly work outside during the wintertime in New Jersey, you can help yourself by knowing what to expect and how to protect yourself during the winter season. You should also insist that your employer provide you with all necessary gear and equipment and maintain a safe working environment at all times. Below are five things you should keep in mind about winter workplace accidents:
The Rate of Work Accidents Goes Up in Winter
Each winter sees thousands of workplace accidents in New Jersey. Nearly 10 percent of all workers in the Garden State are considered to work in a high-risk occupation. These risks, and the rate of accidents, only increases in the winter when outdoor conditions become that much more difficult and treacherous. 
Read more: Why Was My Workers' Compensation Claim Denied?
Slip and Falls Are Among the Most Common Accidents
Numbers from the U.S. Bureau of Labor and Statistics reveal that hundreds of workers across the country suffer fatal injuries from falls; many of these falls are caused by slippery conditions during the winter months. While winter can make for hazardous walking conditions for workers who work in outdoor workplaces, winter weather can also result in slick roads that lead to motor vehicle accidents — many occupational injuries and fatalities arise from traffic related accidents, with many accidents occurring in winter.
Read more: Can Delivery Drivers File For Workers' Compensation?
Hypothermia Is One of the Most Dangerous Winter Work Accidents
Many workers in New Jersey are expected to work outdoors even in the wintertime, even when daytime highs stay below freezing. However, without proper clothing and protection, prolonged exposure to freezing temperatures can lead to hypothermia, which is a dangerous and potentially fatal reduction of your body temperature. Workers who work for extended periods in outdoor spaces in freezing temperatures are also at risk of frostbite for exposed parts of the body such as fingers, noses, or earlobes. Workers who are expected to spend extended periods of the workday outside in freezing temperatures should insist they be provided with appropriate warm clothing and other safety gear, along with being allowed to come inside for frequent breaks to warm up.
Read more: How Does Workers' Compensation Work?
Electrocution Can Also Occur in Winter
Snow and ice from winter storms can cause power lines to fall, posing a risk of electrocution for outdoor workers, especially weather or melting snow and ice leaves water on the ground.
Employers Must Take Steps to Minimize the Risk of Winter Work Accidents
Although employees who work outside should take steps to protect their health and safety during the winter, employers still have a legal obligation to provide safe working conditions for their workers. In the wintertime, this can include taking steps such as ensuring workplaces have slip resistant surfaces, providing warm clothing and safety gear, training employees on winter safety, allowing additional breaks, and preparing work vehicles and equipment for harsh winter conditions.
Read more: 3 Reasons Why You Need A Work Accident Attorney
Contact a Scotch Plains Workers' Compensation Lawyer to Discuss Your New Jersey Workplace Injury Case
A workplace injury can be devastating, particularly if it prevents you from returning to work for an extended period of time. Although New Jersey Workers' Compensation laws are supposed to provide you with reimbursement for medical expenses and replacement pay for missed time at work, it is not always easy to get the Workers' Comp benefits you deserve. That is why you should speak with a knowledgeable Workers' Compensation lawyer about your situation and get guidance throughout the claims process. The experienced Workers' Compensation attorneys at Bramnick, Rodriguez, Grabas, Arnold & Mangan, LLC represent clients in Edison, Woodbridge, Old Bridge, Piscataway, and all across New Jersey. Call (908) 325-5571 or fill out our online contact form today to schedule a consultation about your work injury case. Our main office is located at 1827 East Second St., Scotch Plains, NJ 07076, and we also have offices in Westfield, Newark, East Brunswick, Clifton, Cherry Hill, and Elizabeth.
The articles on this blog are for informative purposes only and are no substitute for legal advice or an attorney-client relationship. If you are seeking legal advice, please contact our law firm directly.