Can I Still Collect Compensation if I had a Pre-Existing Condition?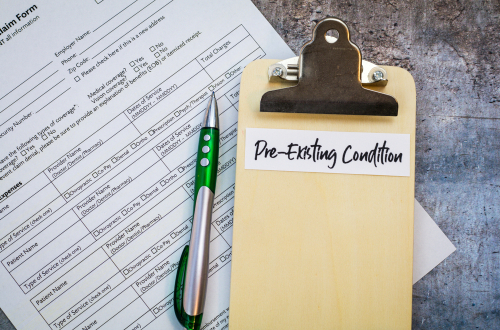 There are a number of reasons why one might file a personal injury claim. Whether it be the result of a motor vehicle accident or slip and fall, personal injury claims are designed to help you get the money you and your loved ones need to get by. But what if the insurance company tries to deny your claim due to your pre-existing condition? Did you know that in the state of New Jersey, you can file a personal injury claim even if you have a pre-existing condition? Continue reading to find out how you can still collect compensation for a pre-existing condition in New Jersey.
Read more: How Social Media Posting Can Harm Your Personal Injury Suit
How a Pre-Existing Condition Can Hurt Your Case
If you're filing a personal injury claim and you have a pre-existing condition, you have to be careful. Let's say you're in a car accident, and in your claim, you state that your back was hurt due to the accident. The defense will request access to your prior medical records. If your records indicate that you had back issues for months before the accident even occurred, they can argue that it's your pre-existing injury, and not the defendant's negligence that is causing your back issues. That's why if you have a pre-existing condition, there's another way you can approach the claim.
Read more: Will My Personal Injury Case Go To Trial?
What You Can Do With a Pre-Existing Condition
In the state of New Jersey, victims are still able to claim damages if the incident led to aggravation of a pre-existing condition. Going back to our back injury example, let's say you have occasional back pain that the car accident worsened. Now, you suffer back pain on a daily basis and may even require surgery to help alleviate your pain.

With detailed medical documentation and any other evidence that can support the claim, you have the grounds for pursuing a personal injury claim. This falls under what is known as the Eggshell Doctrine, which not only allows the defendant to make a claim like this, but also prevents the defendant and their insurance company from claiming no liability.
Read more: What To Do After A Personal Injury
Do I Need a Lawyer?
In the state of New Jersey, a pre-existing condition won't keep you from being able to file a personal injury claim. However, moving forward with a claim can be a difficult and often confusing process, which is why it's highly recommended that you seek out a personal injury lawyer who can help you navigate such a case.
Contact A Scotch Plains Personal Injury Lawyer To Discuss Your Accident Case In New Jersey
Did you or a loved one sustain serious injuries due to a motor vehicle accident or slip and fall accident in New Jersey? Don't let the medical bills pile up while you wait for the negligent party or their insurance company to do the right thing. Right now, you need an aggressive personal injury attorney on your side, fighting to get you the compensation you need, want, and deserve. The skilled attorneys at Bramnick, Rodriguez, Grabas, Arnold & Mangan, LLC represent clients in Union, Plainfield, East Orange, Irvington, and throughout New Jersey. Call (908) 325-5571 or fill out our online contact form to schedule a consultation about your case. We have an office conveniently located at 1827 East Second St., Scotch Plains, NJ 07076, as well as offices in Westfield, Newark, East Brunswick, Clifton, Cherry Hill, and Elizabeth.
The articles on this blog are for informative purposes only and are no substitute for legal advice or an attorney-client relationship. If you are seeking legal advice, please contact our law firm directly.