Borrowed Vehicle Accident: Who Is Liable?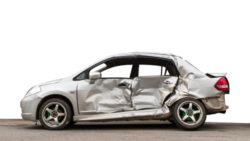 At one time or another you have probably been faced with the decision to let someone else use your vehicle. It may have been a family member, your neighbor, your roommate or a friend, and all they wanted to do was use the car to run a few quick errands. They may have even offered to fill up the gas tank while they were out.
Sounds like a good deal, right?
That is until that person ends up in a car accident. While you may believe it is their insurance that will cover them in this instance, the truth is that your insurance policy will be the primary coverage in the event of an accident.
Liability Stays With You When You Loan Out Your Vehicle
So, regardless of which person you lend your car to, if they end up in an accident, you will be liable. Provided you give them permission to use your vehicle, your insurance policy insures them as well.
The person driving your car might have their own, top-rate coverage that is better than yours, but it will still come second to your insurance policy. Your insurance will be first to cover any damages in the event of a collision.
This also means you might even see an increase in your car insurance premium. Or you might have to meet a deductible on your policy. It all depends on the specifics of your coverage.
The silver lining is that New Jersey is a "no-fault" car insurance state, which means all registered vehicles have personal injury protection (PIP) insurance. Unlike liability insurance, PIP follows the insured not the vehicle. This means you will only be held liable for damages if you lend your car to someone who does not have car insurance and is not in the same residence as someone with PIP.
NJ Car Accident Lawyers Will Take Care Of You
At the end of the day, insurance can be confusing and it does not help that claims adjusters are always working to make sure the insurance company suffers as little as possible from your accident. It is paramount to seek the counsel of an experienced lawyer to make sure your claim is properly handled.
In New Jersey, the law office of Bramnick, Rodriguez, Grabas, Arnold & Mangan, LLC, is devoted to their clients. They will pursue the compensation you deserve for the damages you may have suffered in your car accident.
Use the online contact form to describe your case and begin speaking with an experienced lawyer today.
The articles on this blog are for informative purposes only and are no substitute for legal advice or an attorney-client relationship. If you are seeking legal advice, please contact our law firm directly.