When Are Work Injuries Not Covered by Workers' Compensation?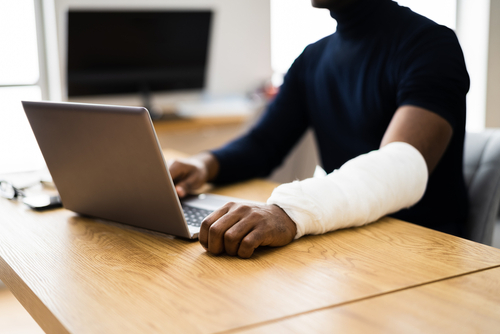 You may be surprised to learn that not every injury that occurs at work is covered by workers' compensation. There are certain circumstances under which your employer is not obligated to pay you workers' comp benefits for an injury you sustained at work or in the course of performing your job duties. 
Pre-existing Medical Conditions
You may not be entitled to receive workers' comp benefits for an injury you suffer at work that is caused by a pre-existing medical condition. For example, if you suffer joint injuries that are later determined to have been caused by arthritis, your employer or its workers' compensation insurer may deny any claim for workers' comp on grounds that your injury was caused by a condition personal to you, and not by your work.
Personal Risk
Similarly, you may have a workers' comp claim denied if you were injured by some risk that you assumed was personal to you, rather than a risk that was connected to your job. For example, accidentally burning yourself while lighting a cigarette would be considered a personal risk and not a work-related risk. 
Deviation from Work
Workers' compensation is also unavailable for injuries that occur while an employee has deviated from work, even though the injury happens during the workday. One of the most common examples of deviation includes being injured in a car accident while running a personal errand while traveling in between worksites. When a personal errand has no connection to work, injuries that occur while performing the errand will not be considered work-related.
A deviation from work can also include undertaking an activity that, while performed in furtherance of work duties, is so unreasonable that a reasonable employee would not undertake that work. For example, a construction worker deciding on their own to use explosives to break up dried cement in a mixer would be considered so unreasonably dangerous that an employer should not be required to insure against such behavior.
Intentional Conduct
Any injuries that a worker inflicts upon themselves through willful or knowing conduct are also not covered by workers' compensation. An employer or workers' compensation insurer would deny a claim for injuries suffered by a worker slamming a hammer on their own hand. Workers' compensation claims are also often denied when a worker is injured while intoxicated by alcohol or drugs at work.
Recreational Activity
Injuries that occur while an employee engages in recreational or social activity at work are typically not covered by workers' compensation. Even many recreational and social activities that are organized by the employer solely for the purposes of fostering employee health and morale will not give rise to a workers' comp claim. Instead, the employer must obtain some benefit from the activity beyond worker's health and morale and the activity must be a regular incident of employment (such as having mandatory attendance).
Horseplay
Finally, workers' compensation is usually not available for injuries that are sustained while an employee engages in horseplay at work. However, workers who are injured while merely being bystanders to co-workers engaging in horseplay can usually obtain workers' comp benefits.
Contact a Scotch Plains Workers' Compensation Lawyer to Discuss Your New Jersey Workplace Injury Case
A workplace injury can be devastating, particularly if it prevents you from returning to work for an extended period of time. Although New Jersey Workers' Compensation laws are supposed to provide you with reimbursement for medical expenses and replacement pay for missed time at work, it is not always easy to get the Workers' Comp benefits you deserve. That is why you should speak with a knowledgeable Workers' Compensation lawyer about your situation and get guidance throughout the claims process. The experienced Workers' Compensation attorneys at Bramnick, Rodriguez, Grabas, Arnold & Mangan, LLC represent clients in Edison, Woodbridge, Old Bridge, Piscataway, and all across New Jersey. Call (908) 325-5571 or fill out our online contact form today to schedule a free consultation about your work injury case. Our main office is located at 1827 E. 2nd St., Scotch Plains, NJ 07076, and we also have offices in Westfield, Newark, East Brunswick, Clifton, Cherry Hill, and Elizabeth,
The articles on this blog are for informative purposes only and are no substitute for legal advice or an attorney-client relationship. If you are seeking legal advice, please contact our law firm directly.