Know What To Do If Your Dog Bites Someone in New Jersey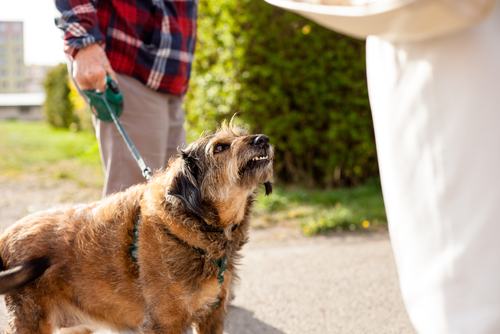 Although we like to think of our dogs as members of our family, the reality is that dogs are still animals with the capability to lash out and attack or injure someone, seemingly without reason or warning. 
If your dog or another family animal injuries someone else in a bite or attack, you may wonder what happens to your pet under New Jersey law.
New Jersey's Dog Bite Law
New Jersey's dog bite law is codified in N.J.S.A. s. 4:19-16. The statute provides:
"The owner of any dog which shall bite a person while such person is on or in a public place, or lawfully on or in a private place, including the property of the owner of the dog, shall be liable for such damages as may be suffered by the person bitten, regardless of the former viciousness of such dog or the owner's knowledge of such viciousness."
A person is considered to lawfully be in a private place when they are authorized to enter by state or federal law or regulation, or enter upon the express or implied invitation of the property owner.
Liability for Dog Bite Injuries
New Jersey is considered a "strict liability" state when it comes to dog bite injuries. That means that a dog owner can be held legally liable to compensate someone injured by the dog's bite, even if the owner had no prior knowledge of the dog's dangerousness or viciousness and if the owner took reasonable care to restrain the dog or protect or warn other people from attack. In other words, all that a dog bite injury victim needs to prove is that they were bitten by someone's dog while lawfully in a public or private place.
A dog bite victim may be entitled to recover financial compensation for losses caused by the bite injury, including for:
Costs of medical treatment
Lost wages for time missed from work while recovering from the dog bite, or lost earning potential if injuries result in permanent disabilities that affect a victim's ability to work
Pain and suffering
Lost qualify of life due to physical scarring or disability from the injuries inflicted by a dog bite or attack
As the owner of a dog who bites and injures someone, you may be entitled to turn to your homeowner's or renter's insurance policy for coverage from liability for the injury. You might also be able to purchase separate liability insurance or a rider to your homeowner's/renter's policy if it excludes coverage for liability for injuries inflicted by your pet.
What Happens to an Animal That Injures a Person
In New Jersey, a domestic animal that injures a person must be placed in a 10-day quarantine, paid for by the animal's owner. At the end of the quarantine period, the local animal control or health officer will evaluate the animal to determine if it is healthy and safe to return to the owner's control. The officer may require the owner to display warning signs on their property or to keep the animal locked up or muzzled. If the officer determines that the animal carries dangerous diseases or is too dangerous to be returned to the owner, the owner can order the animal euthanized.
Read more: How Long Do I Have To File A Dog Bite Claim In New Jersey?
Contact a Scotch Plains Personal Injury Lawyer to Discuss Your Dog Bite Case in New Jersey
Did you or a loved one sustain serious injuries due to a dog bite in New Jersey? Don't let the medical bills pile up while you wait for the negligent party or their insurance company to do the right thing. Right now, you need an aggressive personal injury attorney on your side, fighting to get you the compensation you need, want, and deserve. The skilled attorneys at Bramnick, Rodriguez, Grabas, Arnold & Mangan, LLC represent clients injured because of dog bites in Edison, Woodbridge, Old Bridge, Piscataway, and throughout New Jersey. Call (908) 325-5571 or fill out our online contact form to schedule a free consultation about your case. We have an office conveniently located at 1827 E. 2nd St., Scotch Plains, NJ 07076, as well as offices in Westfield, Newark, East Brunswick, Clifton, Cherry Hill, and Elizabeth.
The articles on this blog are for informative purposes only and are no substitute for legal advice or an attorney-client relationship. If you are seeking legal advice, please contact our law firm directly.