What to Do If You Get Hit By a Car While Riding Your Bike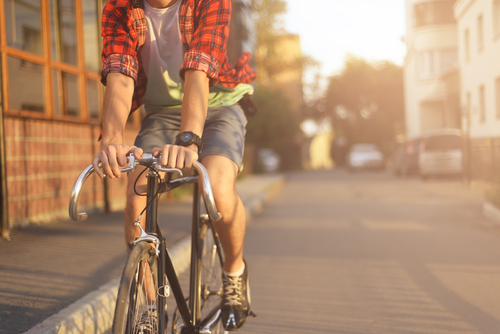 If you are hit by a car while riding your bicycle, there are actions you need to take to not only protect your health and well-being after an accident but also to protect your legal rights and options for recovering financial compensation for expenses and losses that you incur due to the crash.
Call 911
The first thing you should do after being involved in an accident on your bicycle is to call 911 or have someone else call for you. The emergency services will send paramedics to check you out along with a police officer to investigate the accident. It is important that you get checked out by paramedics at the scene, as you may have sustained serious injuries that require immediate medical attention, without even realizing that you have been hurt, such as internal injuries or a traumatic brain injury. 
You should avoid talking to anyone at the scene about the accident, other than a police officer that is investigating the crash. Even seemingly innocent remarks like "I didn't see the car" can later be twisted by the insurance company into evidence that you were not paying attention and therefore are partially to blame for the accident.
If the responding police officer asks you to provide a statement, you should stick to the facts of the accident as you remember them — don't guess or embellish details. However, the police may not prepare an accident report, especially if you were not seriously injured. But if the officer does choose to fill out a report, make sure that any details you have provided are accurate.
Get Eyewitness Information
If any bystanders saw the accident, you should make sure to get their contact information. Many motor vehicle-related accidents often become a matter of "you said, they said," where the parties involved in the crash have conflicting stories. If you have a neutral eyewitness who can confirm details of your account, that goes a long way to proving your claim.
Make Sure to Get the Accident Report
If police respond to the scene of the bicycle accident and fill out an accident report, you should make sure to get a copy of the report. You can request a copy from the New Jersey Department of Public Safety. You will want a copy of the report not only to verify that any details are correct, but also because any insurance company you file a claim with will likely want a copy to review as part of their investigation.
Other Steps to Take After an Accident
Finally, other important actions you should take after being involved in an accident with a motor vehicle while on your bicycle include:
Use your cell phone (or have someone you know if you cannot do it yourself) to take photos of the accident scene, including your bike and the car that hit you, skid marks on the road, traffic controls at the scene, and any visible injuries you suffered.
Keep copies of all bills, invoices, receipts, and your paystubs or income statements.
Avoid discussing the crash with family or friends or on social media.
Speak to an attorney as soon as possible, certainly before filing an insurance claim or lawsuit, to go over your rights and options.
Contact a Scotch Plains Personal Injury Lawyer to Discuss Your Car Accident Case in New Jersey
Did you or a loved one sustain serious injuries due to a car accident in New Jersey? Don't let the medical bills pile up while you wait for the negligent party or their insurance company to do the right thing. Right now, you need an aggressive personal injury attorney on your side, fighting to get you the compensation you need, want, and deserve. The skilled attorneys at Bramnick, Rodriguez, Grabas, Arnold & Mangan, LLC represent clients injured because of car accidents in Edison, Woodbridge, Old Bridge, Piscataway, and throughout New Jersey. Call (908) 325-5571 or fill out our online contact form to schedule a free consultation about your case. We have an office conveniently located at 1827 E. 2nd St., Scotch Plains, NJ 07076, as well as offices in Westfield, Newark, East Brunswick, Clifton, Cherry Hill, and Elizabeth.
The articles on this blog are for informative purposes only and are no substitute for legal advice or an attorney-client relationship. If you are seeking legal advice, please contact our law firm directly.