Useful Resources for Amputee Injury Victims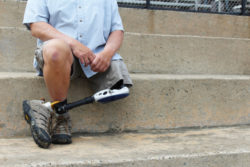 An amputation occurs when a limb or appendage is separated from the rest of the body, either by surgery or due to a traumatic incident. About one in every 200 people in the United States has had an amputation at some point in their lives, and about 30,000 traumatic amputations happen every year nationwide.
If you've had an amputation, you are not alone. Here are some New Jersey resources that can help you meet medical bills and other needs, find people who know what you're going through, and put your life back on track toward your goals and dreams.
Financial Support
The Hanger Clinic, which specializes in orthotics and prosthetics, maintains a list of financial aid resources for patients with amputations. These resources can be used to help patients access prosthetic limbs, assistive devices, and other medical resources that may otherwise be priced out of reach.
Limbs for Life
The Limbs for Life Foundation helps amputation patients access prosthetic limbs. The foundation also helps amputee victims connect with one another and provides resources for accessing other forms of support, such as state Vocational Rehabilitation Services and resources for children who are missing one or more limbs.
Amputee Coalition
The Amputee Coalition gathers data, creates focus and support groups, and helps people who live with amputations to connect with one another and stay informed about issues that affect their lives, including data and policy information about bills and laws that affect persons with disabilities. Their goal is to improve the quality of life for people who have had amputations.
If you've been in an accident or suffered a severe injury or illness that resulted in amputation, you're not alone. Resources are available and can help you rebuild your life. Talking to an experienced New Jersey amputation injury lawyer at Bramnick, Rodriguez, Grabas, Arnold & Mangan, LLC, can also help you identify and pursue options for compensation and a better future.  Contact us to schedule your free initial consultation. We offer direct access to our attorneys 24 hours a day, just call our office at (908) 322-7000 to reach us.
The articles on this blog are for informative purposes only and are no substitute for legal advice or an attorney/client relationship. If you are seeking legal advice, please contact our law firm directly.