Top 6 Tips for Safe Holiday Driving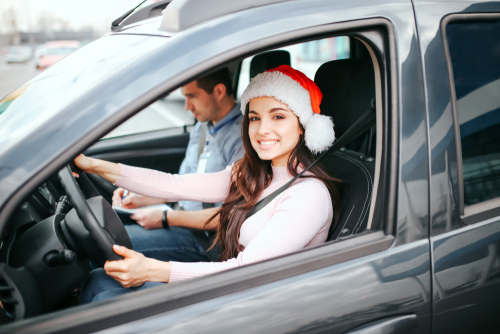 Many of us choose to travel to visit family and friends during the holiday season. Unfortunately, the combination of increased traffic, motorists driving on unfamiliar roads, and the potential for adverse late fall/winter weather conditions can make holiday driving particularly treacherous. Motorists who drive somewhere for the holidays should practice defensive driving, or the practice of using driving strategies and predicting hazards on the road so as to be alert and prepared when an emergency does present itself on the road. Here are some defensive driving tips to keep in mind if you plan on driving this holiday season.
Plan Ahead
If you are taking a trip somewhere for a holiday celebration, you can make the journey a bit smoother by planning ahead. This includes getting yourself ready and getting together everything you will need for your trip well in advance of leaving so that you are not rushing out the door. You should also map your route (and alternative routes) and check traffic and weather conditions. Finally, you should also give yourself plenty of time to get to your destination, in case you run into delays. If you start to feel anxious about getting to your destination on time, you may be more likely to engage in unsafe or reckless driving behaviors.
Always Monitor Your Surroundings
Always check to see what is going on around your vehicle, including in front of and behind your vehicle, as well as on the sides of your vehicle and in your blind spots. Scan the road up to 30 or so feet in front of you, and regularly check your rear-view and side mirrors. Also remember to stay out of other drivers' blind spots, particularly with 18-wheelers or semi trucks.
Never Assume What Other Drivers Will Do
While you may be driving in a safe and lawful manner, you should never assume that other drivers will do the "right" thing on the road. For example, do not assume that other drivers on the road will yield to allow you to merge, or that other drivers will signal or check their mirrors before switching lanes or turning. Always check to see what other drivers around you are doing before making a maneuver on the road, and always be prepared to react if another driver makes a sudden maneuver.
Observe the "Three Second Rule"
You can help reduce the risk of being involved in an accident by following the "three-second rule." This rule states that you should leave at least three seconds of driving time between you and the vehicle in front of you. The three-second rule is intended to give you sufficient space to safely come to a stop if the vehicle in front of you suddenly slows down or stops. You can check to see if you are following the three-second rule by choosing an object on the side of the road, like a sign or tree. When the vehicle in front of you passes it, begin counting off the seconds until you pass it.
Avoid Distracted Driving
Distracted driving represents one of the greatest dangers on the road. Common distracted driving behaviors include:
Texting or looking at a cell phone
Eating or drinking
Adjusting the radio or climate control
Turning around to interact with passengers or other vehicle occupants, such as pets
Looking at signs or other sights outside the car
Daydreaming
Make Alternative Transportation Plans If You Drink
If you are going to a holiday party where you plan to consume alcohol, make sure to have arrangements to safely get home. This may mean having a designated driver, calling a taxi or rideshare vehicle, taking public transportation, or sleeping over at your destination.
Contact a Scotch Plains Personal Injury Lawyer to Discuss Your Motor Vehicle Accident Case in New Jersey
Did you or a loved one sustain serious injuries due to a car accident in New Jersey? Don't let the medical bills pile up while you wait for the negligent party or their insurance company to do the right thing. Right now, you need an aggressive personal injury attorney on your side, fighting to get you the compensation you need, want, and deserve. The skilled attorneys at Bramnick, Rodriguez, Grabas, Arnold & Mangan, LLC represent clients injured because of motor vehicle accidents in Edison, Woodbridge, Old Bridge, Piscataway, and throughout New Jersey. Call (908) 325-5571 or fill out our online contact form to schedule a free consultation about your case. We have an office conveniently located at 1827 E. 2nd St., Scotch Plains, NJ 07076, as well as offices in Westfield, Newark, East Brunswick, Clifton, Cherry Hill, and Elizabeth.
The articles on this blog are for informative purposes only and are no substitute for legal advice or an attorney-client relationship. If you are seeking legal advice, please contact our law firm directly.