Summer is the Season for Construction Accidents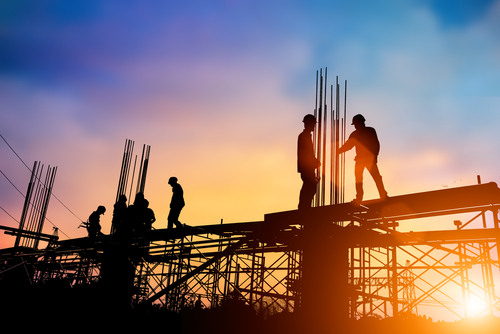 Road construction poses significant risks of injury for construction workers. Much of the road construction that takes place in New Jersey occurs during the summer season, as crews take advantage of the warm summer weather. But the summer season also means increased traffic, much of which includes tourists and visitors who may be unfamiliar with the area. Of course, road construction zones can be confusing and difficult to navigate even for local residents. Drivers, construction companies, and workers should make sure to take extra efforts to keep road construction sites safe during the summer. 
Dangers on Road Construction Sites
Construction workers face the potential of accidents not only from motorists driving by a construction site but also from the negligence or recklessness of their fellow construction workers. Construction sites are filled with vehicles and heavy equipment. Although construction vehicles and equipment are supposed to have warning lights and sirens to warn individuals to keep their distance when vehicles and equipment are in motion, the chaos and noise of a road construction site can make it difficult for workers to notice if they are in the path of a truck, backhoe, or forklift. 
Of course, workers on road construction sites can also get into accidents with passing motorists. Road construction sites may require the diversion of traffic lanes, detours, and other changes to traffic patterns. Drivers need to pay full attention and drive at a slower speed through road construction zones. When motorists are distracted or speed past a construction site, they create a serious risk of a collision or accident. 
Steps Employers and Construction Workers Can Take to Keep Sites Safer
Contractors and construction workers can take steps to help keep road construction sites safer despite the inherent dangers. Safety measures to reduce the risks of accidents and injuries can include:
Ensuring that all work vehicles and moving equipment have mirrors, backup cameras, and other equipment necessary to ensure that operators have a full view around the vehicle or equipment while in motion.
Designating safe paths for workers to move around a road construction site, so that workers who are walking about are less likely to come into the path of a vehicle or piece of equipment. 
Conducting regular safety training with workers and performing safety briefings at the start of every day or work shift. Training and briefings should constantly remind workers of efforts they need to make to keep themselves and their co-workers safe on site.
Enforcing dress and equipment codes, including ensuring that workers wear bright clothing or wear reflective safety vests, wear sturdy footwear, and always use hardhats and safety glasses or goggles. While many construction workers at road sites wear sunglasses in the middle of the summer day, in lower lighting workers should be instructed to remove sunglasses, which can actually impede visibility in lower light.
Having specialized safety protocols for road construction work that takes place at night, when darkness and driver fatigue can put workers at risk of an accident.
Contact a Scotch Plains Workers' Compensation Lawyer to Discuss Your New Jersey Workplace Injury Case
A workplace injury can be devastating, particularly if it prevents you from returning to work for an extended period of time. Although New Jersey Workers' Compensation laws are supposed to provide you with reimbursement for medical expenses and replacement pay for missed time at work, it is not always easy to get the Workers' Comp benefits you deserve. That is why you should speak with a knowledgeable Workers' Compensation lawyer about your situation and get guidance throughout the claims process. The experienced Workers' Compensation attorneys at Bramnick, Rodriguez, Grabas, Arnold & Mangan, LLC represent clients in Edison, Woodbridge, Old Bridge, Piscataway, and all across New Jersey. Call (908) 325-5571 or fill out our online contact form today to schedule a free consultation about your work injury case. Our main office is located at 1827 E. 2nd St., Scotch Plains, NJ 07076, and we also have offices in Westfield, Newark, East Brunswick, Clifton, Cherry Hill, and Elizabeth,
The articles on this blog are for informative purposes only and are no substitute for legal advice or an attorney-client relationship. If you are seeking legal advice, please contact our law firm directly.