Suing a Friend's Insurance for a Dog Bite in New Jersey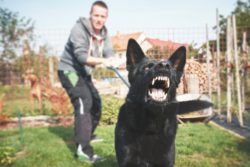 Being bitten by a dog can leave you with severe pain, scarring, and other lingering medical issues. When the dog belongs to a friend, you may hesitate to seek the recovery for the damages you suffered, worried that doing so will jeopardize the friendship.
Fortunately, in many dog bite situations, the coverage for the liability is provided by the dog owner's homeowner's policy. So, while you may be making the claim directly against your friend, it is their insurance carrier that will be providing their financial coverage.
Here's what to do to prepare your claim against a friend's insurance after a dog bite:
1. Obtain contact information for the insurance company.
Your friend should be able to provide contact information for their homeowner's insurance company. Get this information and contact the company as soon as possible to file a claim. Most insurance companies have very short deadlines for filing dog bite claims.
2. Create a safe place to store information related to your claim.
Start a file folder or similar storage system for paperwork and information related to your dog bite. Examples of paperwork to store here include copies of emergency room documentation, medical bills, test results, insurance company claim information, paperwork from your workplace if you're forced to take time off, and any other bills, receipts, or information that relate to your dog bite injury.
3. Choose an experienced lawyer who can help you with your claim.
An experienced dog bite injury lawyer can help you negotiate with the insurance company, collect the information you need to demonstrate the full extent of your damages, and even file a lawsuit in court if needed.
Keeping Yourself and Your Children Protected From Dog Attacks: Talk to an Experienced NJ Dog Bite Attorney
If you've been injured by a dog, don't hesitate to talk to an experienced New Jersey dog bite lawyer who can help you. Contact Bramnick Law today at 908.325.5571 or via our online contact form to learn more.
The articles on this blog are for informative purposes only and are no substitute for legal advice or an attorney/client relationship. If you are seeking legal advice, please contact our law firm directly.