Be Scary Safe This Halloween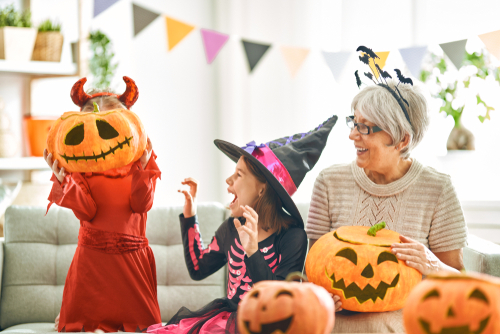 If you choose to go out trick-or-treating with family members or if you are going out to a party for Halloween, you should remember to take steps to keep yourself and your loved one safe this upcoming holiday. According to the Centers for Disease Control, children are twice as likely to be involved in a fatal motor vehicle accident on Halloween than on any other day of the year; the National Highway Traffic Safety Administration ranks Halloween as one of the top three most dangerous days for pedestrians. 
Read more: What To Do After A Personal Injury
Alcohol Safety on Halloween
Consuming alcohol will increase the risk of you causing a motor vehicle accident if you choose to get behind the wheel. Always use a designated driver or a cab/rideshare service if you are going out to a party where you plan to consume alcohol.
Read more: Penalties Change For First-Time DUI Offenders In NJ
If you are hosting a Halloween party and you serve alcohol, you may be held responsible for any accidents your attendees cause, especially if they are a minor or if you continue to serve someone who is visibly intoxicated.
Safety Tips for Adults
Tips for adults on Halloween, whether going out to enjoy the holiday yourselves or escorting young ones around the neighborhood for trick-or-treating, include:
Ensuring your children are always accompanied by a trusted adult whenever out trick-or-treating
Having a designated trick-or-treating route and making sure your children know not to wander off; put your name, phone number and address on your child's wrist or costume in case they get lost
Checking your children's candy before they eat it, throwing out any unwrapped or unsealed pieces
Avoiding costumes with masks for your children, as they can impair vision or breathing, and make sure that neither your nor your children's costumes presented tripping hazards (such as fabric dragging along the ground)
Avoiding driving if you consume alcohol
If you must drive on Halloween, drive slowly and avoid distractions such as your cell phone, so that you can remain alert for children who may quickly dart across the street (and may be difficult to see in dark clothing)
Safety Tips for Children
Be sure to pass along the following safety tips for your children, especially if you are sending them out with another trusted adult for trick-or-treating:
Never trick-or-treat alone; younger children should have adult supervision, while older children may be able to go out with a buddy
Never go inside a stranger's house
Only knock on the doors of homes with their lights on
Stay away from any animals you encounter, as the commotion of Halloween may cause them to feel scared and aggressive
Use a flashlight as you walk about to check for any slipping or tripping hazards
Always cross the street at an intersection or crosswalk; always look for oncoming traffic before crossing
Only trick-or-treat in a familiar neighborhood and at the homes of people you know
Safety Tips for Homeowners
If you are hosting a Halloween party or trick-or-treaters at your home, you should take the following steps to help reduce the risk of visitor injury on your property:
Keep sidewalks, walkways, and lawns free of slipping or tripping hazards, and keep walkways clearly lit
Only give out store-bought, individually wrapped candies and treats
Keep your pets inside and away from party guests, as all the commotion of trick-or-treaters or a Halloween party can frighten animals and make them more aggressive
Read more: How Long Do I Have To File A Dog Bite Claim In New Jersey?
Contact a Scotch Plains Personal Injury Lawyer to Discuss Your Case in New Jersey
Did you or a loved one sustain serious injuries in New Jersey? Don't let the medical bills pile up while you wait for the negligent party or their insurance company to do the right thing. Right now, you need an aggressive personal injury attorney on your side, fighting to get you the compensation you need, want, and deserve. The skilled attorneys at Bramnick, Rodriguez, Grabas, Arnold & Mangan, LLC represent clients injured in Elizabeth, Union, Plainfield, Newark, and throughout New Jersey. Call (908) 325-5571 or fill out our online contact form to schedule a free consultation about your case. We have an office conveniently located at 1827 E. 2nd St., Scotch Plains, NJ 07076, as well as offices in Westfield, Newark, East Brunswick, Clifton, Cherry Hill, and Elizabeth.
The articles on this blog are for informative purposes only and are no substitute for legal advice or an attorney-client relationship. If you are seeking legal advice, please contact our law firm directly.