Shopping Mall Accidents and Personal Injury Claims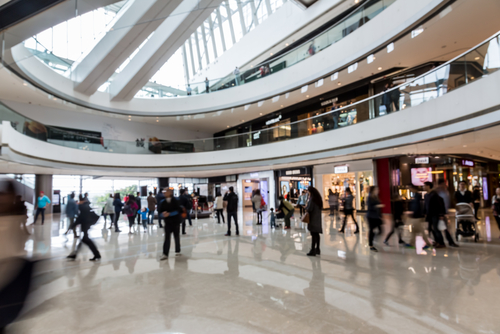 Almost everyone visits shopping malls and shopping centers on a regular basis. As a result, shopping mall accidents are a fairly common occurrence. When a shopping mall accident is caused by a dangerous or defective condition of the property that can be traced to the negligence of the mall or store owner, the accident may lead to a personal injury claim. If you were injured in a shopping mall accident, you should speak to a knowledgeable personal injury attorney about your legal rights and options. 
Common Types of Shopping Mall Accidents
Some of the most common examples of shopping mall accidents include:
Motor vehicle accidents and pedestrian accidents in parking lots and garages
Slip and fall and trip and fall accidents
Falls from heights
Escalator and elevator accidents
Assaults facilitated by negligent security
Trampling incidents
Pedestrian bridge collapses
Injuries Suffered in Shopping Mall Accidents
While most injuries suffered in shopping mall accidents are usually limited to scrapes and bruises, more serious or even life-threatening injuries can occur in shopping mall accidents. Some common examples of shopping mall accident injuries include:
Broken bones
Dislocated joints
Soft tissue injuries
Neck and back injuries
Herniated discs
Spinal cord injuries and paralysis
Stab wounds or gunshot wounds
Internal injuries and internal bleeding
Head and facial injuries
Who Can You Hold Liable for a Shopping Mall Accident?
Assigning liability for a shopping mall accident can be a tricky question. The location in the mall where the accident occurred can play a big part in determining liability. While the mall owner may have liability for an accident that occurs in common areas or in the parking lot or garage of the mall, accidents that occur inside stores in the mall may be the responsibility of the store owner/operator.
In addition to the mall owner or an individual store owner, other parties that may be liable for a shopping mall accident include third-party maintenance companies, such as an elevator/escalator repair company or a maintenance company hired to remove snow and ice from a shopping mall parking lot. 
To hold a party liable for a shopping mall accident, you will need to prove that you were injured by a dangerous condition on the premises and that the condition was either created by the at-fault party or the condition existed long enough that a mall or store owner should have discovered and fixed the condition or warned customers of its presence.
Compensation for Injuries Suffered in a Shopping Mall Accident
If you have been injured by a shopping mall accident, you may be entitled to recover compensation for losses that you have incurred as a result of your injuries, such as:
Medical treatment expenses, including for ER and hospital bills, surgery, prescriptions, doctor's appointment, and physical therapy
Loss of wages or income for time missed from work while recovering from injuries
Loss of earning capacity due to permanent disabilities
Physical pain
Emotional distress or trauma
Loss of quality of life due to permanent scarring/disfigurement or physical disability
Contact a Scotch Plains Personal Injury Lawyer to Discuss Your Shopping Mall Accident Case in New Jersey
Did you or a loved one sustain serious injuries due to a shopping mall accident in New Jersey? Don't let the medical bills pile up while you wait for the negligent party or their insurance company to do the right thing. Right now, you need an aggressive personal injury attorney on your side, fighting to get you the compensation you need, want, and deserve. The skilled attorneys at Bramnick, Rodriguez, Grabas, Arnold & Mangan, LLC represent clients injured because of shopping mall accidents in Edison, Woodbridge, Old Bridge, Piscataway, and throughout New Jersey. Call (908) 325-5571 or fill out our online contact form to schedule a free consultation about your case. We have an office conveniently located at 1827 E. 2nd St., Scotch Plains, NJ 07076, as well as offices in Westfield, Newark, East Brunswick, Clifton, Cherry Hill, and Elizabeth.
The articles on this blog are for informative purposes only and are no substitute for legal advice or an attorney-client relationship. If you are seeking legal advice, please contact our law firm directly.