Scaffolding Accidents: FAQs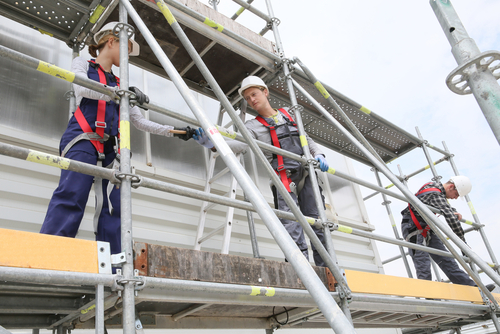 If you've worked in the construction industry, then you're probably already all-too-familiar with why scaffolding is dangerous. A fall from a shaky scaffolding can be fatal, so you and your co-workers can't afford to make any mistakes when it comes to putting together and using scaffolding the right way.
Were you recently injured on-the-job in a scaffolding accident? If so, then you likely have a lot of questions.
1. What Causes Scaffolding Accidents?
First, you're probably wondering what caused your accident to happen in the first place. According to statistics, most scaffolding accidents happen for the following reasons:
Improper assembly
Slip and fall
Getting struck by a falling object
Adverse weather
Inadequate fall protection
Scaffolding collapse
The first thing you need to investigate is whether your employer was following OSHA's protocol with scaffolding at your workplace. You'll also want to consider whether steps were taken to ensure your safety when you went to work.
2. How Can I Financially Recover After a Scaffolding Accident?
After your accident, you likely needed medical care. On top of that, you might not have been able to return to work right away. If that's the case, then you likely need compensation to help you make ends meet until you can work again. Depending on your circumstances, you could have two options available:
These options can help you financially recover after your accident. A worker's compensation claim is a no-fault system, which means you won't have to prove someone else caused your accident. If you hope to file a lawsuit, then you'll need to prove someone else was at fault.
Related blog: How Does Workers' Compensation Work?
3. Should I Hire a Lawyer?
Every scaffolding-related accident is unique. When your injury is minor and your accident was straight-forward, a worker's compensation claim may be easy to file. You could start collecting benefits and recoup from the incident altogether. In most cases, though, getting compensation isn't so easy.
If your worker's compensation claim gets denied or your injuries are severe, then you might have to work harder to get the compensation you deserve. In these situations, it's advised you hire a lawyer to ensure your rights are protected. You shouldn't have to financially suffer due to a scaffolding accident that was someone else's fault.
Related blog: 3 Reasons Why You Need A Work Accident Attorney
Contact a Scotch Plains Personal Injury Lawyer to Discuss Your Scaffolding Accident Case in New Jersey
Did you or a loved one sustain serious injuries due to a scaffolding accident in New Jersey? Don't let the medical bills pile up while you wait for the negligent party or their insurance company to do the right thing. Right now, you need an aggressive personal injury attorney on your side, fighting to get you the compensation you need, want, and deserve. The skilled attorneys at Bramnick, Rodriguez, Grabas, Arnold & Mangan, LLC represent clients injured because of scaffolding accidents in Newark, Scotch Plains, Westfield, Morristown, and throughout New Jersey. Call 866-845-5571 or fill out our online contact form to schedule a free consultation about your case. We have an office conveniently located at 1827 East Second Street, Scotch Plains, NJ 07076 as well as offices located in Westfield, Morristown, East Brunswick, Clifton, Cherry Hill, and Newark.
The articles on this blog are for informative purposes only and are no substitute for legal advice or an attorney-client relationship. If you are seeking legal advice, please contact our law firm directly.