How Long Do I Have to Report an Accident to the Insurance Company?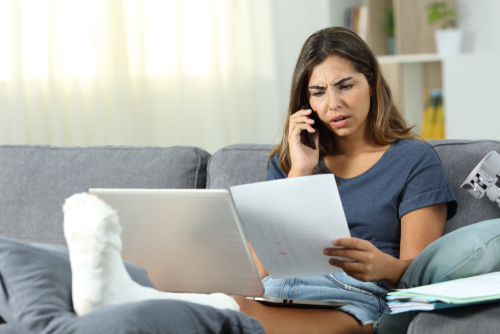 After you've been injured in a car accident or sustained damage to your vehicle, you may have questions about how and when to report your accident to the insurance company or how to go about pursuing a claim for compensation. 

It is always in your best interest to consult with an experienced car accident attorney as soon as possible after your crash. You only have a limited time to pursue compensation; the longer you wait to talk to a lawyer, the more likely it is that you may lose out on options for compensation or not receive the maximum compensation you would otherwise have the right to.
What is The Statute of Limitations on Car Accidents in NJ?
New Jersey law sets a time limit on filing a lawsuit to seek compensation for injuries and damages suffered in a car accident; this time limit is called the statute of limitations. If you file your lawsuit after the statute of limitations or your claim has expired, the court can dismiss your case at the outset. New Jersey's statute of limitations for car accident lawsuit is two years from the date of the accident. Only in limited circumstances might a court pause or extend (known as "tolling") the limitations period, usually only if the injured plaintiff is a minor, or was physically and/or mentally incapacitated and unable to file a lawsuit, or for other factors such as not initially knowing the identity of a hit and run driver.
The Effect of Your Share of Responsibility for the Accident
When you do report your accident to the insurance company, you may be surprised to learn that the insurance adjuster has assigned you a percentage of fault for the accident. This triggers New Jersey's comparative fault system; the state operates under a "modified" comparative fault system, meaning you are legally barred from recovering compensation if you are found to be more than 50 percent at fault for the accident. Otherwise, if you have a share of fault, your compensation will be reduced by that percentage share to reflect your fault for your own damages.
Reporting Your Accident to the Insurance Company
New Jersey is one of several states that operates under a no-fault car insurance system. That means that a person who is injured in a car accident must first turn to his or her own insurer for coverage for medical expenses under the personal injury protection coverage under his or her policy.
While your medical expenses will be covered by your own insurance policy, any damages you suffered from the accident are recoverable against the at-fault driver, in addition to any out of pocket expenses and even claims for loss of wages due to the accident.

Insurance policies often require drivers to report being involved in an accident within a certain period of time, often between 15 and 30 days after the accident. Insurers require notification of an accident even if the driver bears no fault for the collision. If a driver fails to timely report an accident, the insurer may have the contractual right to deny any claim filed by the driver under his or her personal injury protection coverage or uninsured/underinsured motorist coverage.
Contact a Scotch Plains Personal Injury Lawyer to Discuss Your Car Accident Case in New Jersey
Did you or a loved one sustain serious injuries due to a car accident in New Jersey? Don't let the medical bills pile up while you wait for the negligent party or their insurance company to do the right thing. Right now, you need an aggressive personal injury attorney on your side, fighting to get you the compensation you need, want, and deserve. The skilled attorneys at Bramnick, Rodriguez, Grabas, Arnold & Mangan, LLC represent clients injured because of car accidents in Passaic, Wayne, Union, Plainfield, and throughout New Jersey. Call (908) 325-5571 or fill out our online contact form to schedule a free consultation about your case. We have an office conveniently located at 1827 East 2nd Street, Scotch Plains, NJ 07076, as well as offices in Westfield, Newark, East Brunswick, Clifton, Cherry Hill, and Elizabeth.

The articles on this blog are for informative purposes only and are no substitute for legal advice or an attorney-client relationship. If you are seeking legal advice, please contact our law firm directly.