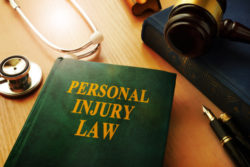 A personal injury lien may sound surprising at first, especially because many people associate a lien with a piece of property. In that same sense, a personal injury lien is basically a claim to some of your settlement money in your personal injury case. The claim usually comes from medical providers, insurance companies and other third parties that paid any of your bills. They need to file a lawsuit through the court system in order to get a lien placed on your settlement. Read on to learn more about who is able to seek a lien on your personal injury settlement.
Who Can Seek a Lien?
When it comes to those seeking a lien on your personal injury settlement, common holders are the following:
Health Insurance Carriers

– liens on personal injury settlements are sometimes built into the health insurance plans of certain employers, which provides the right to place a medical lien on your settlement. These include government employee insurance plans, workman's compensation and ERISA plans.

Healthcare Providers

– if you do not have health insurance or enough to cover all of your medical bills, healthcare providers will almost always seek to recover with a lien on your personal injury settlement. The silver lining is that if you may be able to repay only a partial lien in these circumstances.

Medicaid and Medicare

– in a case where Medicaid has paid your medical bills, the state is required to be paid from the proceeds of the case. A lien will be imposed on any settlement. Medicare does not pay medical bills if payments are made or expected to be made under your insurance plan or workman's compensation. If there is a conditional payment, the United States has the power to bring an action against the primary plan responsible for the payment of expenses.

Car Insurance Carriers

– the insurance company can be entitled to a piece of your settlement if it covers payment of services over $5,000 and the plan provides medical payment coverage.
Consult New Jersey Lawyers With Your Personal Injury
With the rise of personal injury settlement liens, it will be imperative to consult an experienced personal injury lawyer. They will be able to navigate the  complex lien process and make sure the repayment of the lien is considered when negotiating the settlement amount. In New Jersey, the team of Bramnick, Rodriguez, Grabas, Arnold & Mangan, LLC is ready to help you. Not only do they handle all types of personal injury cases — from car and truck accidents to medical malpractice and dog bites — they have a strong track record of success. To have your case evaluated, contact the team by filling out the online contact form today.
The articles on this blog are for informative purposes only and are no substitute for legal advice or an attorney-client relationship. If you are seeking legal advice, please contact our law firm directly.