Motorcycle Fatalities in New Jersey Increase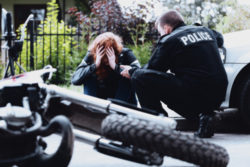 It is easy to see the difference in safety between a car or truck and a motorcycle. The latter does not come equipped with seat belts, nor does it come with any type of barrier that separates the rider from the dangers of the road.
That is why if you are in a motorcycle accident, you are more likely to end up injured or dead. This unfortunate truth was recently backed up by the Governor's Highway Safety Association (GHSA) report. It discovered that in New Jersey, the number of fatalities related to motorcycle accidents increased by 15 percent last year. New Jersey is just one of 18 states that saw an increase in fatalities last year, whereas the country as a whole saw an 8.6 percent decrease in the statistic.
So what is the driving force behind this fatal spike in New Jersey motorcycle fatalities?
Injuries From A Motorcycle Crash Are Catastrophic
While user error is a big factor in many motorcycle accidents, there are also a lot that happens at the hands of distracted drivers. These motorists choose to check their phone or mess with their GPS, taking their attention away from safe driving.
And even if it is for five seconds, the result could be a fatal or catastrophic collision. Driving at 55 mph and checking your phone or texting for five seconds means you can travel the entire length of a football field without seeing the road ahead of you.
When a distracted driver collides with a motorcycle, the results are scary. Many accidents leave the rider with catastrophic injuries that can have a long-lasting impact. These injuries can be brain injuries, spinal cord injuries, road burns, crushed legs and other serious injuries.
In the worst case scenario, a rider may lose their life. The pain and suffering that comes with a wrongful death will also have emotional and financial impacts. That is why if you or a loved one has been injured in a motorcycle accident, you need to contact an experienced personal injury attorney.
NJ Attorneys Will Fight for Maximum Compensation
In New Jersey, you should look no further than Bramnick, Rodriguez, Grabas, Arnold & Mangan, LLC, for help. With over 25 years of experience with motorcycle accident claims, they know what it takes to get you the compensation and justice you deserve.
They understand all the costs associated with a personal injury, especially those that require long-term medical care and rehabilitation. The attorneys at Bramnick, Rodriguez, Grabas, Arnold & Mangan, LLC, will fight for you and make sure you can move forward and recover from your accident.
All you have to do is fill out the online contact form and you can start speaking with an experienced attorney about your case.
The articles on this blog are for informative purposes only and are no substitute for legal advice or an attorney-client relationship. If you are seeking legal advice, please contact our law firm directly.