Learn More About Frontover Accidents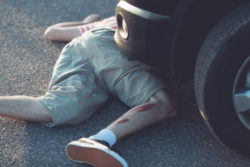 Frontover accidents are a type of car accident that involves a person outside of the car, making the possibility for serious injury much more prominent. Usually, the person being hit is a child, as they can be very difficult to see in certain situations.
A frontover accident occurs when someone is pulling out of a driveway or other road where children are normally playing on, and then hit a child due to the inability to see them in front of the car. Especially with small children, they are easily hidden by the hood of the car, as SUVs and trucks have up to an eight-foot blind spot in front of the car. When pulling out of a driveway, it is important to be very aware of all surroundings.
What can you do to prevent frontover accidents?
Knowing who and what is around you is important when pulling out of a driveway. Many people use these last few seconds (while the car is still moving slowly) to send a last second text, and in those few seconds, a small child could easily run out in front of your car. This is why it is very important to know what is around your car before you start to pull out, and stay aware as you continue to pull out. Though you may not be moving at a fast speed, hitting a small child with your car can be fatal.
What to do if your child has been hit?
If your child has been hit in a frontover accident, make sure to seek immediate medical attention. Next, make sure to find an experienced car accident attorney. At Bramnick Law, there are a team of attorneys who deal with the matter often, and are very successful at what they do. Contact our offices today to schedule a consultation.
The articles on this blog are for informative purposes only and are no substitute for legal advice or an attorney/client relationship. If you are seeking legal advice, please contact our law firm directly.