Injuries That Can Start a Work Injury Lawsuit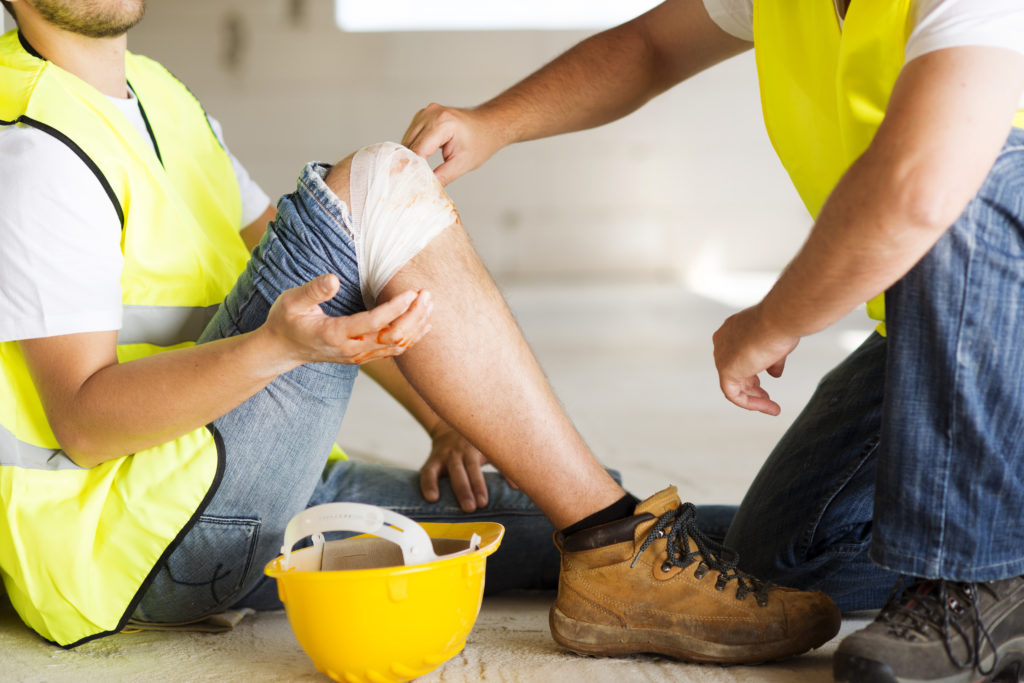 If you've been injured on the job or have come down with an illness or other medical condition that you believe was caused by your job, you may wonder about the injuries that can start a work injury lawsuit.
Most Commonly-Suffered Work Injuries That Can Start a Work Injury Lawsuit
Examples of injuries that can start a work injury lawsuit that are often suffered by employees include:
Slip and fall accidents, which can result in bone fractures and soft-tissue injuries
Falls from heights, including falling from roofs or scaffolding
Falling objects, including head, neck, and back injuries when being struck by objects that fall from heights
Electrocutions & burns
Entanglement/crush injuries, resulting from getting caught in equipment or machinery
Overexertion, which can be caused by heavy labor over an extended period of time without a break
Repetitive stress injuries, such as rotator cuff or carpal tunnel injuries, which result from making the same physical motions for extended periods during a work shift for days, weeks, months, or even years at a time
Hearing loss, typically caused by long-term exposure to loud noises without appropriate protective equipment
Mental stress/emotional distress — a worker seeking to file a claim for work-related stress or emotional distress will likely need to show that their mental/emotional distress manifested in a physical condition and that workplace conditions played an outsized role in triggering their stress or emotional distress
Occupational illness, including illness caused by exposure to disease or by exposure to toxic substances
When Does a Work Injury Give Rise to Workers' Comp vs. a Lawsuit?
If you have suffered an injury, cumulative trauma, or an illness and wish to pursue workers' compensation benefits, you will need to show that your injury or illness is somehow connected to your work — in legal terms, that your injury or illness arises out of and occurred in the course and scope of your work. Importantly, a work-related injury or illness does not have to occur at your normal place of work, nor do you have to be working on a job-related task at the exact moment you were injured, for your injury or illness to be deemed work-related. Instead, it is usually enough to show that an event or exposure in your work environment or while performing a task for your employer's benefit caused or contributed to your injury or illness.
The workers' compensation system in New Jersey is considered a "no-fault" system. This means that a worker does not need to prove that their employer negligently, recklessly, or intentionally caused the worker's injury or illness. In addition, a worker can still receive benefits in most cases even if the worker bears fault for their own injury or illness. However, workers' comp benefits may be denied to a worker if their claim arises from an event or exposure that occurred while the worker was intoxicated, was committing a criminal offense, was violating company policy, or was engaging in reckless or intentionally harmful behavior (such as engaging in horseplay).
A worker who sufferers a work injury or illness may also be entitled to file a lawsuit when a third party, such as a negligent driver who causes a motor vehicle accident, or a manufacturer of a defective tool or piece of equipment that causes an accident, is responsible for the worker's injury or illness. A worker is generally precluded from suing their employer for a work injury or illness, except in rare cases where the employer's intentional, reckless, or grossly negligent conduct causes an injury or illness that is not a normal hazard of the worker's job.
Contact a Scotch Plains Workers' Compensation Lawyer to Discuss The Injuries That Can Start a Work Injury Lawsuit and Your New Jersey Workplace Injury Case
A workplace injury can be devastating, particularly if it prevents you from returning to work for an extended period of time. Although New Jersey Workers' Compensation laws are supposed to provide you with reimbursement for medical expenses and replacement pay for missed time at work, it is not always clear which injuries that can start a work injury lawsuit, or how to get the Workers' Comp benefits you deserve. That is why you should speak with a knowledgeable Workers' Compensation lawyer about your situation and get guidance throughout the claims process.
The experienced Workers' Compensation attorneys at Bramnick, Rodriguez, Grabas, Arnold & Mangan, LLC represent clients in Edison, Woodbridge, Old Bridge, Piscataway, and all across New Jersey. Call (908) 325-5571 or fill out our convenient online contact form today to schedule a free consultation about your work injury case. Our main office is located at 1827 East Second Street, Scotch Plains, NJ 07076, and we also have offices in Westfield, Newark, East Brunswick, Clifton, Cherry Hill, and Elizabeth.
The articles on this blog are for informative purposes only and are no substitute for legal advice or an attorney-client relationship. If you are seeking legal advice, please contact our law firm directly.