Ice & Snow Removal Laws in New Jersey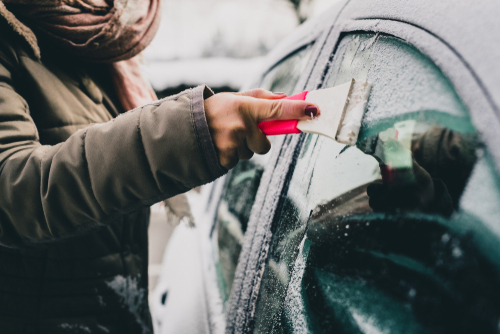 Among the hazards that drivers face on the road after a snow or ice storm includes snow blowing off of other vehicles, potentially creating a visual distraction or obstruction for vehicles behind. Another common issue includes chunks of ice or frozen, compacted snow falling off other vehicles, creating hazards on the roadway if other vehicles crash into the ice or snow swerve on the roadway to avoid a collision. In some cases, ice or frozen snow may land directly onto the following vehicle, potentially causing serious damage.
In addition to the hazards of falling snow, failing to remove snow and ice from a vehicle may create visual obstructions for the driver of the vehicle, greatly increasing the chances of an accident.
Due to these hazards, the law in New Jersey obligates drivers to clean off their cars following winter storms.
Drivers Are Required to Remove Snow and Ice from Vehicles
In New Jersey, drivers are required to remove all snow and ice from their vehicle, especially from the hood, roof, and windows, before setting off. Drivers who fail to do so may face fines from the police. Failing to remove snow and ice can result in a fine of between $25 and $75. If snow or ice that falls off another vehicle onto the roadway causes property damage or personal injury to others, fines can rapidly increase to $200 to $1,000 for each offense. 
Failing to adhere to the law requiring the removal of snow and ice from vehicles before driving may also serve as evidence of a driver's negligence in the event of a motor vehicle accident. 
Tips for Driving in the Winter
When driving during the winter, especially after a storm, remember to follow these important safety tips:
Drive slow, at or below the posted speed limit, slowing down even further if road or weather conditions warrant.
During snowfall, turn on your vehicle's low beam headlights, even during the middle of the day.
Increase your following distance to other vehicles, especially during or immediately after a winter storm, or at night or around sunrise.
If your vehicle begins to skid, do not brake or accelerate in a panic. Instead, simply remove your foot from the accelerator and gently steer in the direction that the rear of your vehicle is skidding in. When your vehicle begins to turn in that direction, you can begin to straighten out the wheel and gently brake, if necessary.
Remember to slow down when exiting the highway, as offramps (especially elevated ones) are more likely to have black ice, which can be especially dangerous in a sharp curve.
If you have to stop on the road in an emergency, pull off the road as far as possible, activate your hazards, and stay with your vehicle until assistance arrives. If you cannot pull off the road, do not stay with your vehicle, but instead carefully walk off the road away from traffic.
What Happens If You Were Involved in a Car Accident Caused by Snow and Ice Falling from Someone Else's Vehicle
If you get into a car accident because of snow and ice falling off of somebody else's vehicle, you may be entitled to hold that driver responsible to compensate you for expenses and losses that you incur such as:
Repair costs for your vehicle or the value of your vehicle if it was totaled in the accident.
Medical expenses
Lost wages/income from missed work, or lost earning capacity if indefinitely or permanent disabled from employment
Physical pain and emotional suffering
Lost enjoyment or quality of life from physical disability or scarring/disfigurement
Contact a Scotch Plains Personal Injury Lawyer to Discuss Your Car Accident Case in New Jersey
Did you or a loved one sustain serious injuries due to a car accident in New Jersey? Don't let the medical bills pile up while you wait for the negligent party or their insurance company to do the right thing. Right now, you need an aggressive personal injury attorney on your side, fighting to get you the compensation you need, want, and deserve. The skilled attorneys at Bramnick, Rodriguez, Grabas, Arnold & Mangan, LLC represent clients injured because of car accidents in Edison, Woodbridge, Old Bridge, Piscataway, and throughout New Jersey. Call (908) 325-5571 or fill out our online contact form to schedule a free consultation about your case. We have an office conveniently located at 1827 E. 2nd St., Scotch Plains, NJ 07076, as well as offices in Westfield, Newark, East Brunswick, Clifton, Cherry Hill, and Elizabeth.
The articles on this blog are for informative purposes only and are no substitute for legal advice or an attorney-client relationship. If you are seeking legal advice, please contact our law firm directly.