9 Reasons Why Driving in the Fall Is Dangerous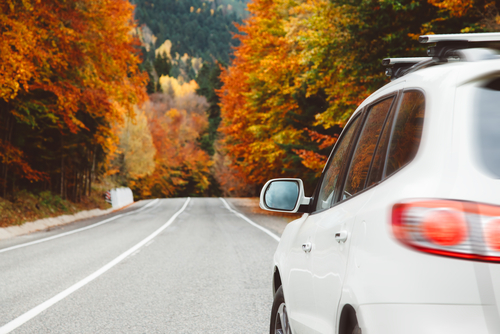 It's hard to believe that the autumn season is already here. With the changing leaves and cooler weather often comes more hazardous road conditions. Driving in the colder months of fall requires motorists to be extra vigilant about operating their vehicle and what is going on around them on the road. In addition, every driver should also make themselves aware of some of the road hazards that come with fall.
Read more: Tips For Traveling Safely In NJ Over The Holiday Season
First Rains
As the hot, dry days of late summer turn into fall, increasingly wet weather can cause roadways to become extra slippery as oil and other substances are brought up to the road surface and washed away. Be extra cautious when driving in the first few minutes of a rainstorm, as that is when roads are at their most slippery (particular around intersections where cars can sit and leak fluids).
Warm Rain
In early fall, the days are often still warm; that makes it easier for early fall rains to bring oil and other slippery substances that have been baked into the pavement during the summer to more easily come up to the surface and make it harder for tires to keep traction.
Fallen Leaves
Although autumn means brilliant colors as the leaves turn, when these leaves fall onto the road they can pose serious hazards. Not only can leaves cover up road lines or broken pavement, but a build-up of leaves can make the road more slippery, particularly following rain as leaves break down.
School Traffic
Children go back to school during the fall months so drivers must be extra vigilant around school zones, especially in the mornings and at dismissal; in particular, drivers should also be aware when driving near high schools, as students may be getting behind the wheel for the first time.
Fog
Fall mornings are often accompanied by fog, which can make it difficult for drivers to get a clear view of the road; be sure to use you low beams (never high beams) and give yourself extra distance to any vehicles in front of you in case you need to slow down and stop for something that they can see ahead that you cannot.
Wildlife
Autumn is a time for mating or migration for many animal species, so drivers are far more likely to encounter wildlife blocking the road during the fall, especially in the early morning or late evening hours (when visibility is already impair due to low light or darkness). Drive a little slower and be prepared to stop for an unexpected animal in the road.
Glare
Glare can actually become worse in the fall as the sun gets lower and lower towards the horizon. Depending on your vehicle's direction and the sun's position, you may end with a strong glare through your windshield. You can take extra precautions by wearing polarized lenses, keeping your windshield clean, and leaving space between you and the car in front of you. 
Read more: Noteworthy Laws For New Jersey Car Crash Victims
Frost
As we go deeper into the autumn season, decreasing temperatures means a greater chance for frost to accumulate overnight. Be sure to thoroughly defrost your windshields before setting off, and take extra precautions when driving through shaded areas in the mornings, as those parts of the road more frequently experience frost and take longer to defrost during the day.
Longer Nights
Fall also means shorter days, and as a result you may be more likely to be on the road during dusk or nighttime hours; regularly check to make sure your vehicle's lights are working.
Contact a Scotch Plains Personal Injury Lawyer to Discuss Your Motor Vehicle Accident Case in New Jersey
Did you or a loved one sustain serious injuries due to a motor vehicle accident in New Jersey? Don't let the medical bills pile up while you wait for the negligent party or their insurance company to do the right thing. Right now, you need an aggressive personal injury attorney on your side, fighting to get you the compensation you need, want, and deserve. The skilled attorneys at Bramnick, Rodriguez, Grabas, Arnold & Mangan, LLC represent clients injured because of motor vehicle accidents in Passaic, Wayne, Union, Plainfield, and throughout New Jersey. Call (908) 325-5571 or fill out our online contact form to schedule a free consultation about your case. We have an office conveniently located at 1827 East Second Street, Scotch Plains, NJ 07076, as well as offices in Westfield, Newark, East Brunswick, Clifton, Cherry Hill, Elizabeth.
The articles on this blog are for informative purposes only and are no substitute for legal advice or an attorney-client relationship. If you are seeking legal advice, please contact our law firm directly.