How Can I File a Claim After a Texting While Driving Accident?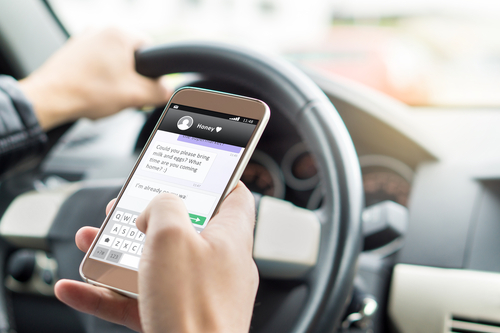 Social media and texting have become ubiquitous to life, but that doesn't mean you should risk your safety or the safety of others to respond to a text message. It's well-known that attempting to text and drive causes car accidents.
Related blog: How Social Media Posting Can Harm Your Personal Injury Suit
If you've been struck by someone who admitted to texting behind the wheel, then you're likely wondering – how can I file a claim and recoup my losses? When fault is evident, it becomes a critical factor to any potential litigation. There are several issues to consider when you believe the other party is at fault. Start by taking the following steps:
1. Start by Contacting the Police
In New Jersey, anyone involved in a motor vehicle accident is obligated to report any accident involving property damage of more than $200 to the police. You could imagine that accruing over $200 of property damage is probably pretty simple. So, the police should be contacted anytime there is an accident involving any damage to property.
Pay attention to what occurs prior to the police's arrival: Did the other driver admit to using their cell phone while driving? Did they say they'll pay you back and there's no need to reach out to the authorities?
While it's tempting to trust the other driver in a situation like this, it's better that you don't. It's crucial to reach out to the police about the crash because they'll be able to document what happened in a police report. Also, you may be ticketed for failure to report an accident if you don't call the police. If you need to file a claim later, then the other driver can't argue that the crash never happened. They'll be hard proof based on the police report. You should also tell the police that the other driver admitted to texting and driving – even if that means the other driver is issued a citation. This important factor will strengthen any claim you make in the future.
2. Document Your Losses
After the police finish their report and you handle the immediate aftermath of the crash, you should take a moment to determine how you feel physically. The manifestations of pain and injury after a motor vehicle accident are not always immediately apparent. Sometime, the adrenaline of being involved in an accident masks symptoms that may develop later. If you feel that you are not 100% after an accident, it is advisable that you go get yourself checked out at the local hospital and make sure to make any follow up appointments recommended. Get a full physical and discuss your car accident with your healthcare provider. Your doctor will look for signs and symptoms of the most common types of car accident injuries. After your visit, save your hospital bill and any receipts for prescriptions you pick up at the pharmacy.
Next, get an estimate of how much your vehicle will cost to repair. Keep a record of this information, too. If you're forced to miss work due to the crash, then ask your employer to provide proof of your lost income.

Related blog: Noteworthy Laws For New Jersey Car Crash Victims
3. Hire a Lawyer
Once you have an idea of the value of your losses, it's time to reach out to a lawyer. Your attorney will help you file the necessary paperwork, contact the appropriate parties, and start your claim.
Related blog: What To Do After A Personal Injury
Contact a Scotch Plains Personal Injury Lawyer to Discuss Your Texting While Driving Accident Case in New Jersey
Did you or a loved one sustain serious injuries due to a texting while driving accident in New Jersey? Don't let the medical bills pile up while you wait for the negligent party or their insurance company to do the right thing. Right now, you need an aggressive personal injury attorney on your side, fighting to get you the compensation you need, want, and deserve. The skilled attorneys at Bramnick, Rodriguez, Grabas, Arnold & Mangan, LLC represent clients injured because of texting while driving accidents in Newark, Scotch Plains, Westfield, Morristown, and throughout New Jersey. Call 866-845-5571 or fill out our online contact form to schedule a free consultation about your case. We have an office conveniently located at 1827 East Second Street, Scotch Plains, NJ 07076 as well as offices located in Westfield, Morristown, East Brunswick, Clifton, Cherry Hill, and Newark.
The articles on this blog are for informative purposes only and are no substitute for legal advice or an attorney-client relationship. If you are seeking legal advice, please contact our law firm directly.