Dump Truck and School Bus Collide in Fatal Crash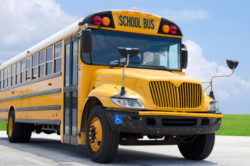 Recently, flags across New Jersey were flying at half-staff following a horrific highway accident between a dump truck and a school bus full of fifth-graders. The incident resulted in the death of a 10-year old child and one teacher and left 40 others injured.
The collision happened on I-80 near Mount Olive as the school bus was on its way to a school field trip. The impact ripped apart the school bus, leaving it lying on its side in the median.
Sources have said that the bus driver had missed an exit and decided to correct the mistake by making an illegal U-turn across the center median. The center median is an area only meant for authorized vehicles.
The incident is undergoing further investigation as the injured were being treated in local hospitals. As of the morning after the accident, one student was still in a medically induced coma. The driver of the dump truck was also being treated for injuries.
Truck Accidents Have Catastrophic Consequences
Accidents of this nature are extremely dangerous, especially when they involve a commercial dump truck and a large bus designed to transport multiple people. When a dump truck that is large in size and probably hauling a load collides with any other vehicle on the road, the injuries can be debilitating.
Since the incident took place on a highway, the dump truck was most likely also traveling at speeds over 50 mph. This makes for a scary situation for all involved in the incident.
Aside from the accident itself, all parties involved will have to deal with the aftermath. This can include permanent injuries, expensive and extensive medical bills, pain and suffering and other damages.
The unfortunate truth is that all of those things will need to be dealt with on top of recovering from any injuries sustained. It is a lot for anyone to handle and requires the utmost care and attention you can only get from an experienced attorney.
NJ Attorneys Diligently Investigate Truck Accidents
In a tough time like this, it may be wise to contact the dedicated attorneys Bramnick, Rodriguez, Grabas, Arnold & Mangan, LLC. Our New Jersey law firm has experienced attorneys that handle all types of accident cases, including those that involve trucks — construction, commercial, tractor-trailers, 18-wheeler, semi-trucks, or 18-wheelers.
They will make sure you are properly compensated for any damages you have suffered. So, if you or a loved one has been injured in a truck accident, contact us today for a free consultation,
The articles on this blog are for informative purposes only and are no substitute for legal advice or an attorney-client relationship. If you are seeking legal advice, please contact our law firm directly.