Describing Light Duty Restrictions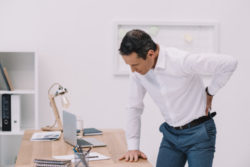 After a work-related injury, most employees will look into their options for receiving workers' compensation while they recover. Federal and state workers' compensation laws ensure that employers will provide both medical benefits and wage replacement to workers who are injured during the course of their employment. In some cases, a worker's injuries may prevent them from fulfilling all of their work obligations, but they may still be able to do some job-related duties. In these circumstances, the worker's doctor may approve them for light-duty work.
Defining Light Duty Work
Light duty work assignments are defined as job positions that are either less physically or mentally demanding than a previous role. After an employee is injured, their doctor will analyze the injury and determine whether they will be able to continue working at the same capacity as before.
Work restrictions can be broken into three categories:
Sedentary
Lifting
One-handed restrictions
To have sedentary restrictions means the injured employee will need to be sitting for the majority of the time. Lifting restrictions limit the amount of weight that the injured employee can lift, and one-handed restrictions mean the worker can only be assigned to jobs that require the use of one hand only. Your doctor will assess each category individually based on the extent of your specific injury.
Is my Employer Required to Offer me Light Duty Work?
In most circumstances, an employer does not have a legal obligation to provide light duty work as an option for injured workers. Many businesses argue that they do not have any light duty positions available, and others may simply wish to hire a temporary employee until you return to work.
Do I Have the Right to Refuse Light Duty Work?
According to the Family and Medical Leave Act, injured employees maintain the right to refuse offers of light duty work. Despite this right, refusing a light duty work offer could put your workers' compensation benefits at risk. If your physician hasn't authorized light duty work, then you are under no obligation to accept it. If your physician has approved it and your employer offers it, then it's important to understand that refusing the offer could make you ineligible for supplemental job displacement benefits.
Contact a Newark Workers' Compensation Lawyer to Discuss Your New Jersey Workplace Injury Case
A workplace injury can be devastating, particularly if it prevents you from returning to work for an extended period of time. Although New Jersey Workers' Compensation laws are supposed to provide you with reimbursement for medical expenses and replacement pay for missed time at work, it is not always easy to get the Workers' Comp benefits you deserve. That is why you should speak with a knowledgeable Workers' Compensation lawyer about your situation and get guidance throughout the claims process. The experienced Workers' Compensation attorneys at Bramnick, Rodriguez, Grabas, Arnold & Mangan, LLC represent clients in Newark, Westfield, Scotch Plains, East Brunswick, Cherry Hill, Clifton, Elizabeth and all across New Jersey. Call 877-423-4878 or email us today to schedule a free consultation about your work injury case. Our main office is located at 45 Bleeker Street, Newark, NJ 07102 and we also have offices in Westfield, Scotch Plains, East Brunswick, Cherry Hill, Clifton, and Elizabeth.
The articles on this blog are for informative purposes only and are no substitute for legal advice or an attorney-client relationship. If you are seeking legal advice, please contact our law firm directly.