Criminal Defense And Vehicular Homicide In New Jersey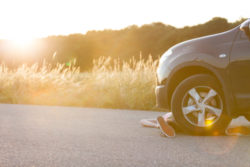 One of the most tragic and serious offenses that a New Jersey resident could face under the state's criminal code involves motor vehicles and accidents in which a death results. Either vehicular homicide, or vehicular manslaughter, New Jersey prosecutors will charge first degree charges, carrying penalties of between 10 years to life when a death occurs during a motor vehicle accident that results from traffic violations such as reckless driving, driving under the influence, and other similar acts. Due to the gravity of these charges it is best that a criminal defense attorney is contacted immediately.
What Is Vehicular Homicide?
In New Jersey, a person can be convicted of vehicular homicide by operating a vehicle recklessly and causing the death of another. A person is deemed to operate a vehicle recklessly by consciously disregarding a "substantial and unjustifiable risk" to others. In other words, when a person knows that the way were operating their vehicle is dangerous but decides to do it anyway.
There are a few situations where the defendant's recklessness is inferred. Known as permissible inferences, if the prosecution proves that the operator was driving or boating while intoxicated (DWI/BWI), using a cell phone while driving, or falling asleep at the wheel, the jury can be permitted to presume that the driver was acting recklessly.
Vehicular Homicide Penalties
There are a range of offenses that are charged depending on the unique circumstances of each particular case. The offenses range from lower level offenses of third degree with a maximum penalty of 5 years up to the maximum offense of first degree offense which carries up to a potential life sentence. Additionally, financial penalties can go as high as $200,000.
It's Important to Obtain Criminal Defense Help
The assistance of a criminal defense attorney as soon as possible after the accident is vital. An experienced attorney is familiar with what evidence the police and prosecution will seek and will make sure all your rights are observed. They will also know what additional evidence to seek out to prove your innocence or help reduce any punishment you might face. The aftermath of an accident is traumatic and chaotic, and you should never face it alone if you think you may be facing charges.
Contact an Experienced Elizabeth Criminal Defense Lawyer About Your Vehicular Homicide Charges in New Jersey
Were you arrested or charged with vehicular homicide in New Jersey? The consequences of a conviction could be severe, leaving you with a permanent criminal record and possibly even sending you to jail. That is why you need to speak with a qualified criminal defense attorney as soon as possible about your case. The attorneys at Bramnick, Rodriguez, Grabas, Arnold & Mangan, LLC have successfully represented clients charged with vehicular homicide in Paterson, Clifton, Passaic, Wayne and throughout New Jersey. Call 877-423-4878 or fill out the online contact form to schedule a consultation with a member of our legal team. We have an office conveniently located at 45 Bleeker St. Newark, NJ 07102 and in Westfield, Scotch Plains, East Brunswick, Cherry Hill, Clifton and Elizabeth.
The articles on this blog are for informative purposes only and are no substitute for legal advice or an attorney-client relationship. If you are seeking legal advice, please contact our law firm directly.