Car Accidents Caused by Road Construction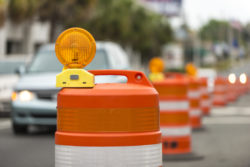 Some New Jersey residents joke that the state has two seasons: winter and road construction. Construction zones are a common sight throughout New Jersey, and the risks of certain types of accidents are higher in construction zones than elsewhere.
Accidents in road construction zones may be caused by a wide range of factors, including the construction itself or by other drivers who are also passing through the site. Here are some of the most common car accidents caused by road construction:
Collisions With Distracted Drivers
Drivers who are distracted, speeding, texting or otherwise failing to pay proper attention and drive carefully in construction zones cause a number of accidents every year. Often, these are rear-end accidents or similar "fender-benders" caused by inattention. Nevertheless, they can cause injuries and vehicle damage.
Improperly-Marked Paths
Every New Jersey driver has had the experience of approaching a construction zone and being uncertain where to go or what to do. This uncertainty can result from a construction company failing to clearly mark the path traffic should take. Missing or unclear lines, flashing lights that do not work correctly at night, missing or improperly-placed barrels or cones, and other problems can all cause an accident.
Insufficient Clearances
Pathways through construction zones have to be built to accommodate all types of traffic that might pass through the area. If the pathway is too narrow or the turns are too sharp, cars, trucks, or other vehicles might hit concrete barriers, equipment, or even one another. All of these situations can result in serious injuries or even death, depending on the circumstances.
If you've been injured in a car accident in a construction zone, don't hesitate to contact an experienced New Jersey car accident lawyer from Bramnick, Rodriguez, Grabas, Arnold & Mangan, LLC who can help you identify and pursue the best legal options in your situation.  Contact us to schedule your free initial consultation. We offer direct access to our attorneys 24 hours a day, just call our office at (908) 322-7000 to reach us.
The articles on this blog are for informative purposes only and are no substitute for legal advice or an attorney/client relationship. If you are seeking legal advice, please contact our law firm directly.