Can You Get Workers' Comp For Depression/Mental Illness?
WORKERS' COMPENSATION LAWYERS SCOTCH PLAINS NJ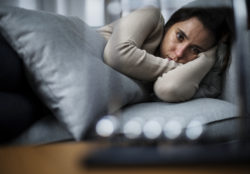 Although most of us experience stressful moments from time to time in the workplace, not everyone experiences long-term suffering because of it. Work is considered a "naturally stressful" activity that most of us accept and manage. However, for some of us, work may cause or promote mental illness. If the worker's environment is significantly toxic, people working there may develop depression, anxiety or post-traumatic stress syndrome (PTSD). When people feel stuck in an emotionally toxic workplace, they might not have to pay for the costs of dealing with their emotional distress.
Experienced New Jersey  Attorneys Assist Clients With Depression and Mental Illness to Claim Workers' Compensation
In the state of New Jersey, it's possible to request workers' compensation for work-caused mental illness. New Jersey is one of a short list of states that offer this benefit to workers. It's possible for the worker to claim workers' comp for mental illness like others who are injured or become ill because of work-related conditions. New Jersey workers who successfully file a workers' comp claim for mental illness receive lost wages and medical treatment for their condition.
Unlike many other workplace injuries or illnesses, it's more challenging to link a worker's illness to the workplace. In order to receive workers' comp for mental illness or depression, the worker must demonstrate that his or her injuries result from the workplace. Obtaining this proof may be exceptionally difficult and eventually require the employee to engage mental health experts and witnesses to testify on his or her behalf. The employee may need to call witnesses to confirm that the events he or she experienced were in fact traumatic. Assembling a legal claim for a mental health illness requires the assistance of an experienced New Jersey's workers' compensation law firm. Many potential claimants are denied workers' comp benefits because they don't appreciate the potential legal complexity of these claims.
Free Initial Consultation with New Jersey Workers' Comp Attorneys – Call (908) 322-7000
If you or someone you love wants to file a New Jersey workers' compensation claim because of a mental health illness or condition, or if you've been denied benefits on a previously submitted claim and wish to file an appeal, contact an experienced law firm with a strong understanding of New Jersey's workers' comp laws. Bramnick Law has offices throughout New Jersey to accommodate you. Contact Bramnick Law to request an initial case evaluation at 877.423.4878 now.
The articles on this blog are for informative purposes only and are no substitute for legal advice or an attorney/client relationship. If you are seeking legal advice, please contact our law firm directly.