Wrongful Death Resulting From Food Poisoning
Foodborne Illnesses Can Cause Fatalities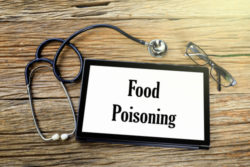 No one wants to lose a family member or a loved one, especially not because of something they ate. Though wrongful death resulting from food poisoning is something to be aware of, there is a very slight chance of it actually happening.
Food poisoning more commonly occurs in people who are either very young or very old and ill. Essentially, those with a weak immune system are typically at a higher risk.
Food Poisoning And Wrongful Death
After losing a loved one from a foodborne illness, there may be very little comfort in considering litigation. However, as time goes by, a relative's loss is felt in very real and practical everyday ways. Family members of the deceased may be entitled to financial compensation for their loss.
Talking to a qualified attorney may assist you in deciding whether this is the right course of action for you.
The Centers for Disease Control and Prevention (CDC) reports that 50 million people suffer from food poisoning in the United States each year and about 3,000 people die because of it. Usually, food poisoning isn't the only reason for death. However, if it is, this is when a wrongful death case can likely be made. If there was something else along with the food poisoning that caused the death, it can be rather complicated to litigate.
Undercooked meat and fish are known to be among the leading causes of food-related sickness, as they are likely infected with salmonella. Food poisoning from undercooked meat and fish is also more likely to be fatal as compared to other kinds of food poisoning.
Free Consultation With Experienced New Jersey Food Poisoning Attorney
If a loved one has been taken by food poisoning, finding an experienced attorney who knows how to handle the issue is essential. At Bramnick Law, our team of attorneys will fight to get your family the compensation they deserve. Contact our team today to schedule a consultation.
The articles on this blog are for informative purposes only and are no substitute for legal advice or an attorney/client relationship. If you are seeking legal advice, please contact our law firm directly.